Major Tim Peake, the British astronaut who blasts off to the International Space Station (ISS) on 15th December, will spend one month longer in space than originally planned, the European Space Agency has announced. He will accompany NASA astronaut Tim Kopra and Russian cosmonaut Yuri Malenchenko, and will be in space orbiting Earth for 173 days, until 5th June, 2016.
The three astronauts will lift off from the Russian Baikonur Cosmodrome in Kazakhstan, in the small Soyuz TMA-19M spacecraft, which is operated by Roscosmos (Russian Federal Space Agency).
BBC to launch VR game
Major Peake's mission has inspired the BBC to launch a search for a major virtual reality game, according to Broadcast. BBC Learning is asking for ideas that will give people a sense of what Peake's experiences will be like.
ESA astronaut Tim Peake (left), commander-cosmonaut Yuri Malenchenko (middle), and NASA astronaut Tim Kopra in front of a Soyuz spacecraft. Tim, a former army helicopter pitlot, will travel on the left seat of the capsule and act as Yuri's co-pilot. They will arrive at ISS with six other astronauts waiting for them. (Image: www.eas.int)
As part of his training, Major Peakes will undertake a VR simulation in preparation for emergency scenarios while conducting a space walk outside the space station.
BBC Learning has published an open tender to create a game that will work across both a Google Cardboard mobile app for Android and iOS devices and a VR headset.
---
---
The BBC announced:
"Learning would like to use [Major Peake's] simulation as inspiration for a short but breathtaking game combining the excitement of the training scenario with a focus on the learning opportunities around the subject and the emerging format of virtual reality."
Major Peake's mission will be the 6th longest that any European Space Agency astronaut has had to undertake.
Still much still to do before blast-off
Before entering the rocket, the spacemen will have to undergo a number of medical checks, physical training, set up experiments, and review the plans for the six-hour voyage to the ISS.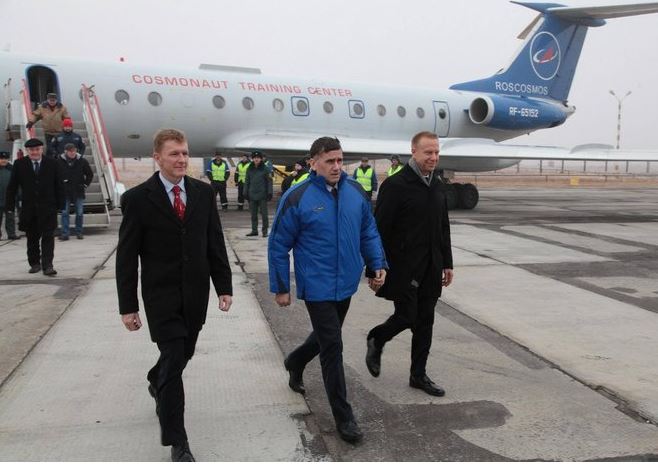 The three astronauts arrived at the Baikonur Cosmodrome in Kazakhstan ahead of their launch to the International Space Station. (Image: www.esa.int)
They will be in a semi-quarantined environment until December 15th, coming into physical contact with other people as little as possible, so that they do not pick up any germs or infections and pass them on to crew members who are currently on board the space station.
Major Peake's mission is called Principia. It was named after Sir Isaac Newton's text outlining the laws of motion and gravity. He will have to conduct several experiments, ranging from growing blood vessel cells and protein crystals in a microgravity environment, to performing tests on certain metals.
According to the European Space Agency, this mission will have a special emphasis on education.
Malenchenko, Kopra and  Peake stand by the Sokol suits they will wear on launch day. Soyuz astronauts get to try their spacecraft and suits for the first time two weeks before blast off. Each suit and spacecraft seat is tailor-made for comfort and safety. (Image: www.esa.int)
NASA says many of the experiments carried out by the astronauts in space will benefit people on Earth as well as future crews.
NASA wrote:
"Finally, the crew is packing the Soyuz TMA-17M spacecraft before its undocking Dec. 11. The Soyuz will bring home Expedition 45-46 crew members Lindgren, Soyuz Commander Oleg Kononenko and Japanese astronaut Kimiya Yui."
ESA Video – The Soyuz launch sequence
This 2013 ESA video explains how the astronauts are taken on the Soyuz rocket to the International Space Station.