BT says it is having preliminary talks with the Spanish broadband and telecommunications giant Telefónica about acquiring the O2 mobile network.
BT confirmed on Monday that it had received expressions of interest from shareholders in two UK mobile network operators, including O2, about a possible transaction in which the London-based multinational telecommunications services company acquires the UK mobile business of O2.
According to El Confidencial, BT may offer €6 billion plus a 20% stake in its share capital for O2. The Spanish newspaper did not cite sources.
In a statement, BT said:
"All discussions are at a highly preliminary stage and there can be no certainty that any transaction will occur. A further announcement will be made if and when appropriate."
BT spun off O2 (then called BT Cellnet) in 2002. Three years later Telefónica acquired it for £17.7 billion.
BT has also confirmed it has been approached by the owners of EE, another mobile network, about a possible purchase. EE belongs to Germany's Deutsche Telekom and France's Orange.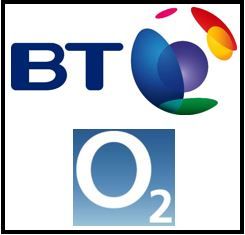 If BT manages to buy both O2 and EE, it will completely dominate the UK market.
While agreeing that now is the right time for consolidation in the UK's mobile network business, many analysts today said it was ironical how BT was turning the full circle – buying back what it had previously sold off.
O2 is currently valued at between £9 billion, according to Deutsche Bank, and £9.6 billion (UBS valuation). If Telefónica does manage to sell it off, it would be doing so at a loss of nearly 50%.
Orange and Deutsche Telekom had planned to float EE, but the IPO was put on hold. The two companies said their UK strategy would depend on BT's mobile plans.
If BT does commit to the UK mobile market in a big way, parents of companies operating in Britain are likely to want to sell up. Profit margins in the UK, compared to other countries, are very low.
Whoever purchases EE or O2 would create a telecoms giant offering mobile, TV, broadband and fixed-line telephones. O2 holds 26.2% and EE 33.8% of the UK mobile market by revenue, while BT has approximately one third of the home broadband market.
On Monday, Telefónica also confirmed it was having preliminary talks with BT, and added that they were in a "highly preliminary phase".
Since 2013, Telefónica has been selling assets to improve its credit rating.