German business confidence has declined following plans by the European Central Back to make more of an effort in its eurozone recovery.
The Ifo Business Climate Index for industry and trade in Germany dropped in September to 104.7 points from 106.3 points in August – the lowest level since April 2013.
The index is based on information provided by a survey of 7,000 executives from firms in manufacturing, construction, wholesaling and retailing, who were asked to provide their assessments of the current business situation and their expectations for the next six months.
The six-month business outlook dropped to the lowest level since December 2012 and there is growing sentiment that the German economy is not running smoothly.
In manufacturing the outlook continued to fall, and manufacturers in Germany are feeling unsatisfied with the current business situation.
For the first time since early 2013 expectations turned negative, with not much stimulus expected from export business.
In wholesaling the index dropped to the lowest level since March 2010, with increased skepticism about future business developments.
In construction the index also declined to its lowest point since December 2012. However, it is still at a relatively high level.
An economist at Raiffeisen Schweiz in Zurich, Alexander Koch, told Bloomberg:
"Ifo has dropped substantially since spring. Drivers of the moderation are the Ukraine conflict and lower growth momentum in the neighboring euro-area countries. Dynamics should stabilize in autumn and provide the way for somewhat better growth prospects again at the end of the year."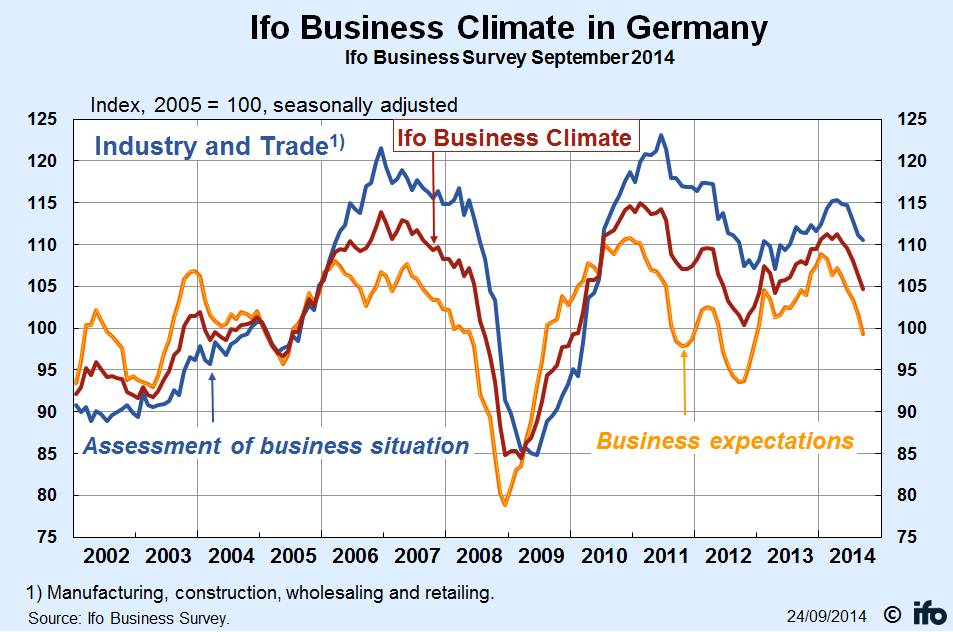 Stable private sector growth with manufacturing edging closer to stagnation
According to a new report by Markit, in September there has been an increase in German private sector output, with the seasonally adjusted Markit Flash Germany Output Index increasing to 54.0 in September from 53.7 the month before.
However, the gap widened between manufacturing and services in September and production in the goods-producing sector has slowed down to a 15-month low.
German service providers were pessimistic about their business expectations in September, the first time in two years. According to the survey, respondents felt that the introduction of a minimum wage in January was the main factor that affected their overall sentiment.