Canada's trade deficit narrowed to $370 million in April 2017, from a revised $936 million deficit in March, but its surplus with the USA jumped to a three-year record, according to data released by Statistics Canada, the country's official statistical agency. Its trade surplus with the United States reached $5 billion for the month, compared to $3.4 billion in March 2017.
Overall exports increased by 1.8% in April to $47.7 billion, driven by greater exports of light trucks and passenger cars. Imports increased by 0.6% to $48.1 billion.
Over the past few months, Canada's trade activity has been strong, with its total merchandise – exports + imports – reaching $95.7 billion in April – a record high. Canada's trade increased 10.9% in April 2017 compared to the same month last year.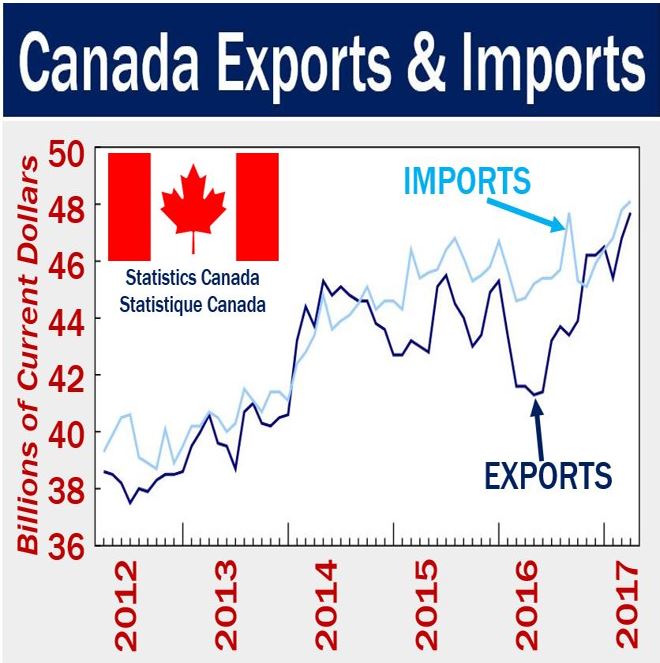 Since April 2012, as this chart shows, Canada's export and import figures have been fairly close, apart from 2016. (Image: adapted from statcan.gc.ca)
Exports hit record high in Canada
Exports grew by 3.2% and 1.8% in March and April respectively, reaching a record high of $47.7 billion in April. Eight of eleven sections posted advances.
Volumes posted a 1.1% increase while prices rose by 0.7%. Energy products, motor vehicles & parts, and forestry products & building packaging materials were the main drivers pushing up exports for April.
---
---
Non-energy exports increased by 1.7%. There was a 14.7% increase in exports in April compared to the same month last year.
Motor vehicles and parts exports were 4.4% higher in April, at $8.1 billion. Light cars and passenger trucks led the growth – 5.4% higher at $5.6 billion. This growth coincided with the imports of motor vehicle engines and parts growing for a third successive month, and a greater ramp-up in US auto inventories in April.
Volumes for the section as a whole rose by 2.8%, while prices were 1.6% up.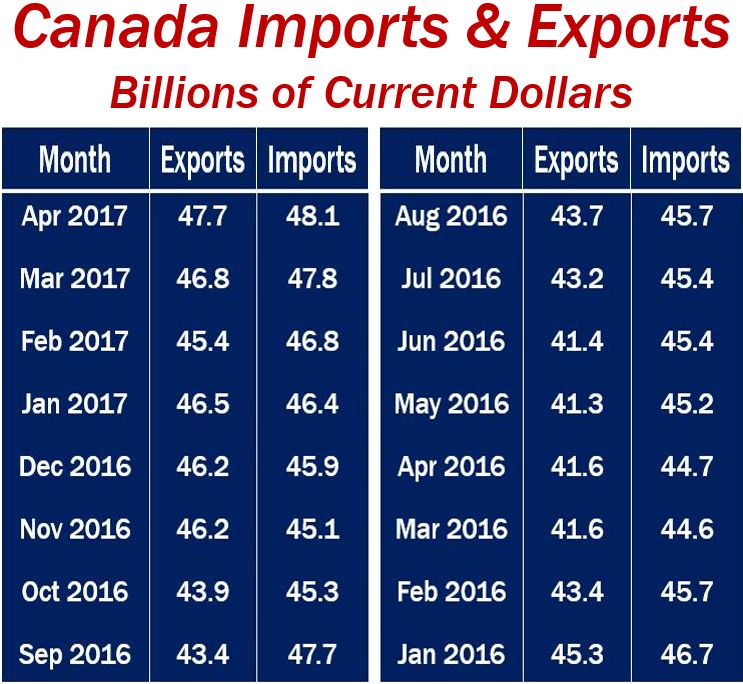 Data Source: Statistics Canada
Exports of energy products increased by 2.5% in April to $8.8 billion. Natural gas exports led the increase, growing by 18.5% to $1.1 billion, mainly because of higher prices.
Other energy products were 13.8% up, driven mainly by higher coal exports to the Netherlands. Over the past few months, coal exports have been strong as Australia's coal industry has yet to recover fully from Cyclone Debbie.
---
---
Building & packaging materials and forestry products exports increased by 4.7% in April to $3.7 billion, after rising by 6.4% in March.
Record imports due to higher prices
Imports increased by 0.6% in April, reaching a record of $48.1 billion, a fifth successive monthly increase. Seven out of eleven sections posted growth in imports. Volumes were 0.3% down, while prices were 1% up. Compared to April last year, imports were 7.4% up.
April's imports increase was mainly driven by consumer goods, electronic & electrical equipment parts, and basic & industrial chemical, plastic & rubber products.
Transportation equipment, transportation parts, and aircraft imports were down by 24.6%, at $1.3 billion. Fewer ships from Poland and the Netherlands and aircraft from the US led the decrease.
Imports of energy products were 14% down in April, at $2.3 billion. Crude oil and crude bitumen declined by 22.9% to $1.3 billion.
Growth in trade with the USA
Exports to the US grew by 5.4% in April, reaching a record $36.1 billion, driven mainly by passenger cars, softwood lumber, and natural gas. Imports from the US were also up, by 1.1%, reaching $31.1 billion.
Canada's trade surplus with the US grew from $3.4 billion to $5 billion from March to April this year – making it the biggest surplus since May 2014.
In April, the Canadian dollar relative to the US dollar fell 0.3 cents.
Exports to other countries fell by 7.8% in April, reaching $11.6 billion, which partly offset the gain in exports to the US. Reduced exports to the UK, Spain, China and Switzerland were the main contributors to the decline.
Imports from other nations other than the US were marginally down (-0.2%), as widespread falls were partially offset by higher crude oil and energy transmission cable imports from Norway, and crude oil from Turkey.
In volume terms (real terms), exports were 1.1% up and imports were 0.3% down in April. Consequently, in volume terms, Canada's trade surplus widened from $239 million to $843 million (from March to April).
Video – Statistics Canada
This Statistics Canada video explains what the fundamental principles of official statistics are.