Canada's unemployment rate in October fell to 6.5% from 6.8% in September, with private-sector employers hiring more as they prepare for growing demand from the United States, the country's largest trading partner.
According to Statistics Canada, October saw the addition of 43,100 net jobs. Royal Bank of Canada economists had predicted a 5,000 decline after September's strong 74,100 gain.
Following two successive months of strong net job gains, Canada's unemployment is now at a six-year low.
Compared to October 2013, employment increased by 182,000 (+1%), with two thirds of that growth posted in September and October 2014.
In October 2014, part-time employment increased by 101,000 (+3%) and full-time by 81,000 (+0.6%) compared to October 2013, while the number of hours worked rose by +0.4%.
All October's 44,000 job gains were for the 25 to 54 age group, with 36,000 of this increase among women.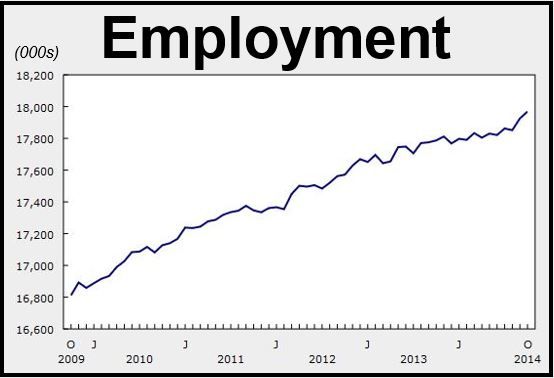 The unemployment rate for women aged 25 to 54 stayed unchanged at 5.1% because there were more of them in the labor market.
Among men in the 25 to 54 aged group, unemployment stood at 5.8%.
Employment increased in Prince Edward Island, Nova Scotia, Manitoba, and Ontario, but declined in New Brunswick.
While employment surged in educational services, real estate and leasing, manufacturing, insurance, finance, and wholesale trade, it declined in public administration, other services, and natural resources.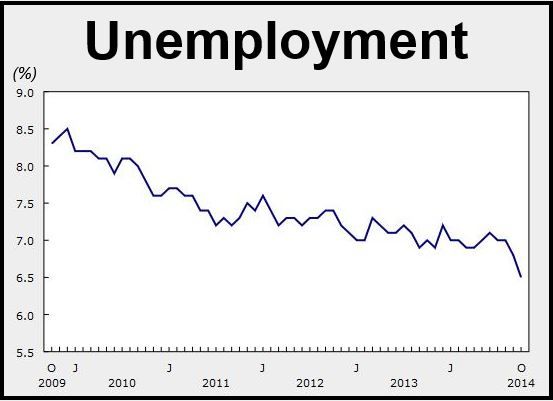 (Source: Statistics Canada)
The number of self-employed workers and private sector employees rose in October, but the size of the workforce in the public sector declined.
The total number of people in jobs in the 15 to 24 age group was little changed in October. However, as there were 12.6% fewer youths looking for jobs, this group's unemployment rate fell 0.9 of a percentage point.
For Canadians aged 55+ years, the unemployment rate was little changed at 5.6% in October.