Carnival Corporation profits increased in Q2 2014 to $80 million, compared to $57 million in Q2 2013. Diluted earnings per share in Q2 2014 were $0.10 versus $0.07 in the same quarter a year earlier.
Second quarter revenue increased by $100 million to $3.6 billion.
The world's leading cruise operator said better-than-expected earnings were the result of a more favorable economic environment, a sustained marketing campaign, greater-than-expected net revenue yields for most of its cruise brands, and declining net cruise costs.
Since the Costa Concordia disaster off the Italian island of Giglio two years ago, Carnival has been spending heavily on marketing in a drive to regain its reputation.
Arnold Donald, President and CEO of Carnival Corporation & PLC, which is headquartered in both Miami, USA, and Southampton, England, said:
"We benefited from the effective marketing initiatives, which combined with a gradually improving economic environment, led to revenue yield improvement for our continental European brands in the quarter compared to the prior year, and is expected to continue through the remainder of the year. In addition, we achieved a six percent improvement in fuel consumption."
Below are some highlighted data published by the company today:
Net revenue yields on a constant dollar basis (net revenue per available lower berth day or ALBD) fell 2.2% in Q2 2014, compared to Carnival's guidance of down 3% to 4%.
In current dollars, gross yields declined 0.5%.
Excluding fuel, net cruise costs per ALBD rose 1.2% in constant dollars, mainly due to an increase in dry-dock costs, as well as expenses related to advertising and promotion. This was better than the March guidance's increase of 2.5% to 3.5%.
In current dollars, gross cruise costs (incl. fuel per ALBD) fell 0.9%.
Fuel prices fell to $657 per metric ton (3.7% fall) for the second quarter, compared to $683 per metric ton in the same quarter a year earlier. However, they exceeded March's guidance of $649 per metric ton.
Compared to Q2 2013, fuel consumption per ALBD declined by 6% in Q2 2014.
Outlook for 2014
Since March 2014, fleetwide booking volumes for the next three quarters are slightly behind the same period last year at higher prices. "At this time, cumulative advance bookings for the remainder of 2014 are slightly ahead of the prior year at higher prices," the company wrote.
Mr. Donald emphasized that collectively, Carnival's brands are gaining momentum in its efforts to drive higher ticket prices, which should bring in sequential improvements in revenue yields, "despite a more competitive environment in the Caribbean this summer."
The company is also focusing on identifying opportunities for cross-brand operational efficiencies, an effort that Mr. Donald pointed out is still in the early stages. "We believe we have reached a positive inflection point for our company as we return to earnings growth in 2014 and work hard to ensure that growth accelerates in the years to come."
For the full year 2014, Carnival expects total revenues to be up on 2013. The company continues to forecast lower 2014 net revenue yields (on a constant dollar bases) compared to last year.
The company now predicts net cruise costs (excl. fuel per ALBD) for full year 2014 to be flat to up slightly on last year, an improvement on the March guidance. Changes in fuel prices, however, as well as currency exchange rate fluctuations have reduced full year 2014 expected earnings by $0.06 per share compared to the March guidance.

During Q2 2014, the Regal Princess was launched in Europe.
Carnival said that it is exploiting the expanding cruise market in China by deploying a ship to Shanghai.
About Carnival Corporation & PLC
Apart from being the largest cruise ship operator globally, it is also one of the biggest vacation corporations worldwide. It attracts approximately 10 million vacationers annually.
The company claims to have at any given time about 200,000 guests and 77,000 employees sailing aboard the Carnival fleet.
The cruise operator has a fleet of more than 100 ships under several brand names:
AIDA Cruises (Germany)
Carnival Cruise Lines (North American)
Costa Cruises (Southern Europe)
Cunard (UK)
Holland America Line (North America)
Iberocruceros (Spain)
P&O Cruises (Australia)
P&O Cruises (UK)
Princess Cruises (North America)
Seabourn (North America)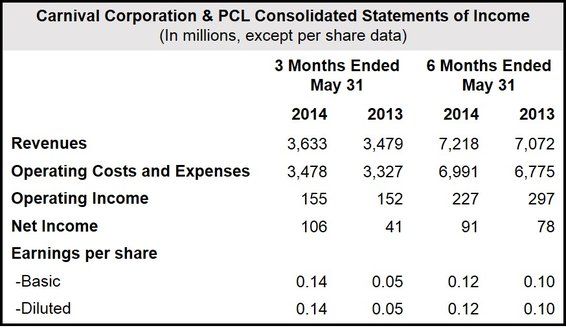 (Source: Carnival Corporation & PLC)