China has launched a direct rail freight service to the United Kingdom. The container-laden train set off from Yiwu, a city in eastern China, on 1st January and is due to arrive in Barking, London, on 18th January.
On its 7,500 mile (about 12,000 km) journey, the train runs west through Kazakhstan, Russia, Belarus, Poland, Germany, Belgium, France, and the Channel Tunnel. It will then make a return journey back to Yiwu.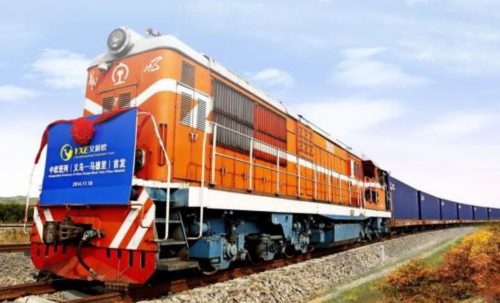 The new direct rail freight service will carry container loads of goods like automotive parts and electronics from the far east of China to London. Image: Project Cargo Network
The new service out of Yiwu is operated by Yiwu Timex Industrial Investment Co Ltd, who have already been running a similar service to Madrid (Spain) via Duisburg (Germany) for over a year.
London is the 15th city to join China's rail link to Europe. The Chinese company's UK agent is One Two Three Logistics, who are supported by Brunel Project Cargo.
---
---
Cheaper than air, faster than sea freight
The direct rail freight service costs 50 percent less than air freight and takes only half the time of sea freight.
The service will also accept a wide range of cargo, including door-to-door, full container loads, and part container loads.
The inaugural journey is expected to be followed by regular weekly trains for 3-4 months to assess the market.
Mike White, Brunel Project Cargo's director for group operations, says:
"We believe this is going to change the way a lot of forwarders and shippers view their imports and exports for China. Particularly with airfreight, as instead of 30 days import from China, there is now a rail option of just 14 days."
The list price for shipping a 40 ft High Cube container is 4,600 USD for the 16-day Yiwu-London journey. The list-price for the London-Yiwu 21-day route is lower – 2,500 USD – reflecting lower demand for that direction.
The direct rail freight service is expected to be used by shippers of premium goods such as parts, electronics, automotive parts, and food.
---
---
New Silk Route
The direct rail freight service is part of China's New Silk Route strategy – a revival of the historic Silk Road trade route that ran between China and Europe.
The New Silk Route was announced in 2013 by President Xi Jinping. The idea is to connect China with Central Asia, the Middle East, and Europe, via two trade corridors: one overland, and the other by sea.