The Chinese banking system is now the world's largest by assets.
Chinese bank assets rose to $33 trillion at the end of 2016, surpassing $31 trillion for the Eurozone and $16 trillion for the US, according to a report by The Financial Times.
The Chinese banking system is more than triple (3.1 times) the size of the nation's annual economic output, largely due to a surge in lending following the 2008 global financial crisis.
The world's three largest banks are now Chinese.
The largest bank in the world, by assets, is the Industrial and Commercial Bank of China, followed by China Construction Bank and the Agricultural Bank of China.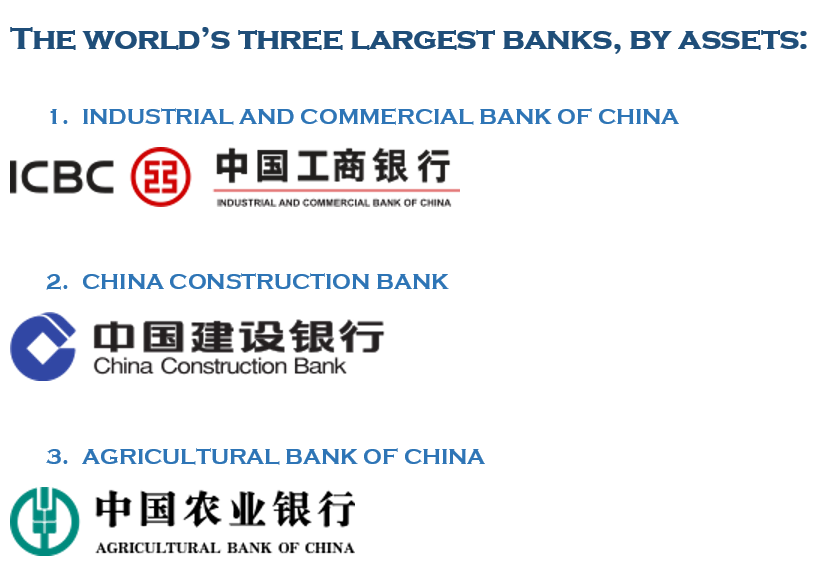 There is concern that Beijing's fiscal stimulus programme to boost the economy has created a dangerous debt bubble, with overcapacity in certain industries, unsustainable debt levels, and wasteful investments.
Eswar Prasad, economist at Cornell University and former China head of the International Monetary Fund, told the FT:
"The massive size of China's banking system is less a cause for celebration than a sign of an economy overly dependent on bank-financed investment, beset by inefficient resource allocation, and subject to enormous credit risks."
Local governments across China have used debt to finance large infrastructure projects over recent years, with large state-owned policy banks, such as China Development Bank, playing an important role in financing such projects, as well as commercial banks.
Hou Wei, China banks analyst at Sanford C Bernstein in Hong Kong, was quoted by the FT as saying:
"There's a lot of hidden sovereign credit within the corporate loans on bank balance sheets, which can distort the picture when you do a cross-country comparison.

"In most other markets, governments just borrow directly from capital markets. In China, it's a unique situation."
---
Source:
"China overtakes eurozone as world's biggest bank system", published March 5, 2017 by Gabriel Wildau, The Financial Times. Retrieved March 7, 2017.
---