The Chinese 4G smartphone market is set for an explosive growth of 1,500% this year, says a new report published by IHS Technology.
Shipments are forecast to each 72.4 million units this year, compared to 4.6 million in 2013, the authors say.
The IHS report – China Smartphone Market Enters 4G Era – from the China Electronics Supply Chains service of HIS, predicts that shipments will accelerate dramatically during the second half of this year.
The Chinese 4G smartphone market was born in 2013; the authors say it is growing "from a practically non-existent base two years ago."
The Chinese 4G smartphone market will see unrelenting growth over the next few years.
Shipments are forecast to double next year to 144.1 million handsets, rising by a further 53% to 219.8 million in 2016, and then reaching 298.5 million units in 2017.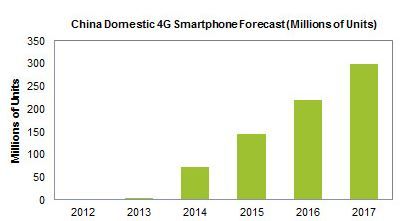 (Source: IHS Technology.)
4G smartphones – the new hot market in China
Kevin Wang, director for China research at IHS, said:
"With support from the government and increasing clamor from the public, 4G smartphones will be the new hot market in China. Already Beijing has granted licenses for TD-LTE, China's homegrown version of the 4G Long Term Evolution standard, to the state's three carriers. This way, China Mobile, China Telecom and China Unicom can all launch commercial 4G services whenever they wish."
The overall Chinese smartphone market for 2014 is predicted to reach 371.8 million units, with 4G smartphone accounting for just 19% of the total. Most smartphone sales this year will consist of 3G handsets.
In 2013, the Chinese 3G smartphone market reached 287.2 million handsets, and is expected to total 290.3 million this year, an increase of 1%.
The authors of the report expect 3G shipments to dominate the Chinese smartphone market for the next two years, and then give way to 4G handsets in 2016.
Chinese smartphone market dominated by domestic makers
Seventy percent of China's smartphone market is supplied by domestic original equipment manufacturers (OEM). The top ten make up more than half of the total.
The major smartphone shippers in China (in order of size) were:
Huawei Technologies – more than 50 million handsets.
Levono – 44 million.
ZTE – 40 million.
IHS predicts that Xiaomi, vivo and OPPO will be the new stars in 2014.
The 4G smartphones expected to be popular in the Chinese market this year are the Note 3 (Samsung) and the iPhone 5s (Apple).
After a long period of negotiations, Apple managed to sign a deal with China Mobile for its iPhones. IHS forecasts iPhone sales in excess of 20 million in China this year.
Carriers subsidize cost of high-end smartphones
Upmarket smartphones in China can sell for nearly $500 (3,000 renminbi). According to the authors, "the high-end 4G smartphone market will make up close to 40 percent of the entire 4G space in China this year."
As also occurs in the US, the cost of smartphones is significantly subsidized by the carriers to help encourage shoppers buy new handsets.
Three operators in China spent nearly $4.5 billion (27 billion renminbi) in subsidizing 3G smartphones, 10% more than in 2012. These subsidies punch a deep hole in their net incomes.
The underground gray market for China-made handsets has declined considerably after authorities intervened to block a once-thriving trade. A total of 200.4 million units were sold in the gray market in 2013; the number this year is expected to fall to about 183 units.