Chinese investment in overseas real estate rose to $33 billion in 2016, a 55% increase compared to 2015, making it one of the leading movers of capital into global real estate.
The United States remained the most popular global property market for Chinese investors last year, followed by Hong Kong, Malaysia, Hong Kong, and the UK.
Chinese real estate investment in the US totaled $14.3 billion.
The most sought after types of real estate for Chinese investors in 2016 were office buildings, hotels and residential land.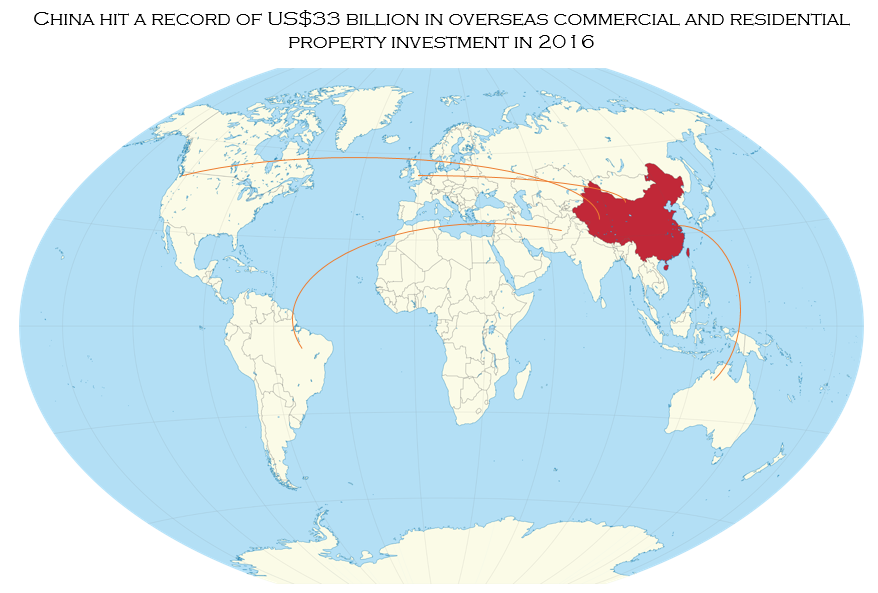 According to a report by global real estate firm Jones Lang LaSalle (JLL), the hotel and industrial sectors showed the largest increase in 2016 "due to significant transactions in the U.S. in the form of portfolio sales and Chinese appetite for industrial parks."
"Hotel activity last year was boosted by the purchase of Strategic Hotels and Resorts by Anbang Insurance for over US$6 billion," said David Green-Morgan, JLL's Global Capital Markets Research Director.
"China Life Insurance has secured assets across the hotel and office sectors with portfolio purchases from the Starwood Capital Group and an office tower in Manhattan; sovereign wealth fund Chinese Investment Corporation has been active in the office sector in New York as well."
"We do believe that Chinese investors will continue to be major movers of capital into global real estate for many years to come," Green-Morgan added. "But a similar increase in 2017 may be challenging given the recent discussion about China monitoring its capital outflows."
---
---
The data by JLL only covers investments made by institutional investors and not does include transactions made by Chinese individuals.
As pointed by the FT, these individuals "have become a major force in markets such as New York, London, Vancouver and Sydney."
A separate survey by Hurun Research of around 300 Chinese high net worth individuals (HNWIs), carried out between August and October 2016, found that about 60% of HNWIs in China intend to invest in overseas property over the next three years.
Rupert Hoogewerf, Hurun Report Chairman and Chief Researcher, said: "China currently has 1,340,000 high net worth individuals, defined as individuals with US$1.5m, so that means we are looking at a massive 800,000 individuals who want to buy property overseas over the next three years.