A surprise rise in exports and a decline in imports resulted in a Chinese record trade surplus in July. The economic recoveries in the European and US economies seem to be helping sustain China's GDP expansion.
Exports increased by 14.5% in July year-on-year to $212.9 billion, while imports declined by 1.6% to $165.6 billion, according to data published by the General Administration of Customs (GAC).
July's trade surplus reached a record $47.3 billion, beating June's by 70% and July last year's by nearly 170%.
Exports grew by more than double June's 7.2% rise, the fastest rate in over a year. The volume of international trade increased to $378.5 billion, 6.9% more than in July last year. International trade comprises all the imports and exports of goods and services.
Advanced economies fueling Chinese exports
Zheng Yuesheng, spokesman for GAC, said:
"Driven by the global economic recovery led by major developed countries, the external market and demand has improved. It will help the growing momentum of bilateral trade between China and its trade partners in the second half of the year."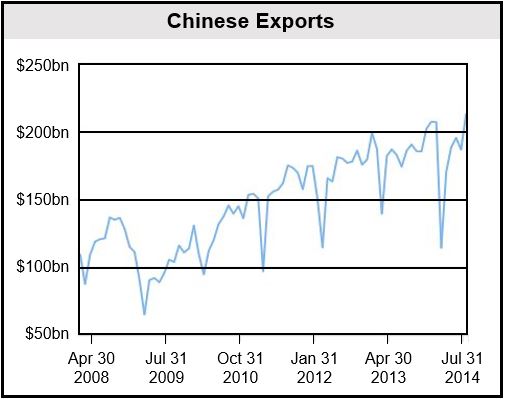 (Data source: GAC)
Weak commodity prices and sluggish domestic demand
In an interview with Xinhua, Qu Hongbin, chief China economist at HSBC, said imports declined because July 2013's figure was particularly high, and also because of a drop in both volumes and prices of commodities including refined oil products, crude oil and copper. "As domestic demand continues to improve, we expect import growth to improve modestly in the coming months," he said.
Several economists have attributed falling exports to weakening domestic demand.
Exports to Europe and the United States, by far China's largest markets, grew sharply, easing pressure on Premier Li Kegiang to consider stimulus packages to boost the economy during the second half of the year.
Export-driven economic growth
Mr. Li's 7.5% GDP growth target for 2014 is likely to be export-driven, most analysts predict. Bloomberg quotes Dong Tao from the Credit Suisse Group in Hong Kong, who said "Exports may continue to grow at a double-digit rate, or at least close to double digits, in the coming months."
Chinese exports in July (compared to July 2013) rose by:
12.3% to the United States,
11.9% to the ASEAN (

Association of Southeast Asian Nations

) region, after increasing 9.7% in June.
The country's trade surplus so far this year (ending July 30th) has increased to $150.6 billion compared to $125.9 billion during the first seven months of 2013.
There is concern regarding China's cooling housing market, which is seen as a drag on the broader economy as well as investor confidence. The country's anti-corruption drive may also be undermining growth.
Earlier this month, the IMF said China would be better off with slower economic growth combined with the implementation of urgently-needed reforms.
---
Video – What is International Trade
Countries buying and selling things from/to each other comes under the umbrella term 'international trade.'
---