Chinese semiconductor consumption growth exceeded the global consumption market for the third year running in 2013. While the worldwide semiconductor consumption market grew by 4.8% in 2013, in China it surged by 10.1%.
By the end of 2013, China represented 55.6% of the global market.
The bulk of this expansion came from China's role as a major producer of smartphones and tablets, according to a new report published by PwC, titled "A decade of unprecedented growth: China's impact on the semiconductor industry — 2014 update."
Global leader since 2005
Ever since PwC started its Chinese semiconductor market reports, China moved from an 18.5% share of the global market in 2003 to 24.8% in 2005 to more than 55.6% today. By 2005 it was already the market leader and has since increased that lead every year, except for 2010.
Raman Chitkara, PwC's Global Technology and Semiconductor Leader, said:
"China continues to grow its role and influence in the semiconductor industry measured from the lenses of consumption and production of semiconductors. Growth in China's semiconductor consumption has captured principal headlines in the past ten years."
"We foresee growth in consumption to moderate but still continue. More interestingly, we expect growth in semiconductor production to capture more headlines in the next ten years as the Chinese semiconductor industry matures and accelerates its development."
PwC's 2014 updated report also outlined the following findings:
Semiconductor consumption concentrates: Last year, Chinese semiconductor consumption concentrated on the data processing and communications application sectors. Demand was proportionally down in the consumer and auto areas, and considerably less in the military/aerospace and industrial/medical/other sectors.
Chinese integrated circuit (IC) consumption and production gap: The disparity between IC consumption and production has increased to $108.2 billion in 2013 from $20.8 billion in 2003.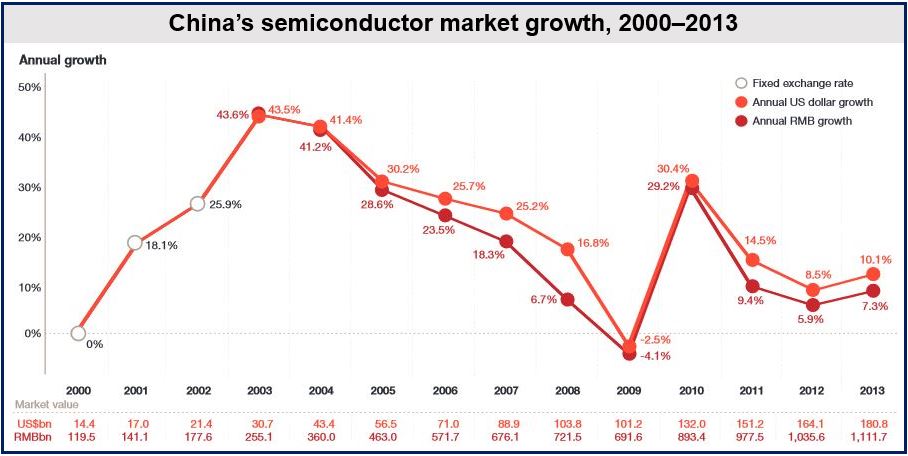 (Source: www.pwc.com/technology)
Ten years of growth
In 2013, China's semiconductor industry continued to outpace both its domestic semiconductor consumption and global consumption market growth rates.
Last year, the Chinese semiconductor industry expanded by 16.7% to $65.8 billion. During the last decade, China's semiconductor industry has expanded at least as fast as its semiconductor consumption market every year except for two.
Jianbin Gao, PwC China's Technology Leader, said:
"China's expansive semiconductor consumption market has far exceeded expectations. As the market shifts and evolves, there may be some moderation. But overall, with various factors such as Chinese companies emerging as a larger part of this market, we expect growth to continue for the next several years."
(Source: www.pwc.com/technology)