External blinks or patio blinds can offer proper protection and shading to your open space and offer optimum privacy to your entertainment outdoors. Outdoor blinds are also state-of-the-art add-ons to your home décor, which are specially designed to withstand and offer an awesome look to the exteriors.
You may like to install outdoor blinds on your patio, poolside, pergola, or veranda. In any case, you need to make the right choice of blinds to ensure optimum functionality and aesthetics. Here are some important things to consider while buying outdoor blinds. Let us have a quick look.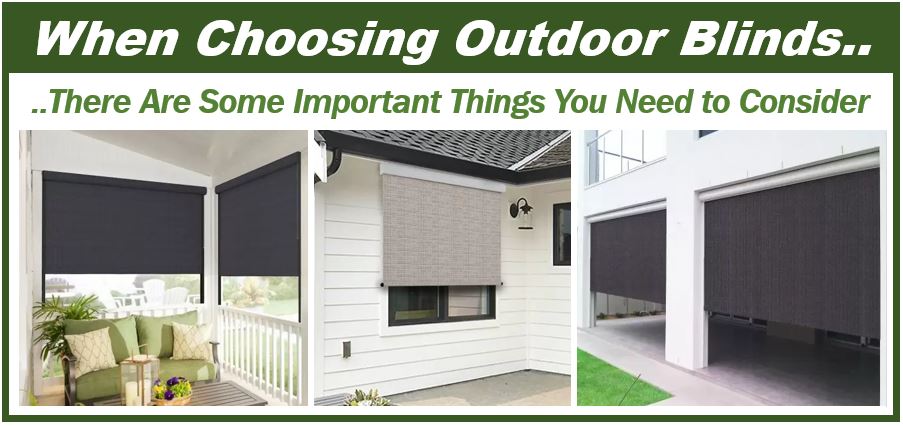 Choosing a good material
There are various types of outdoor blinds made up of different materials. For example, you can choose the clear or tinted blinds, which come in various colors. Outdoor clear blinds can offer weather protection along with being fully transparent. These can offer you a crisp view of your backyard and beyond and act as protection from wind, rain, and harmful rays from the sun.
Choosing the operating mechanism
While choosing the outdoor blinds, you have to think of the most appropriate operating mechanism to be used. Classic model gear tensioned blinds are very popular among users. There is a manually operated system that allows users to control the blinds completely based on the blind tension and regulate your blinds. Classic blind operation is also very simple and can be operated by anyone. These types of blinds also do not feature any types of straps, pulleys, or zips to confuse you. There also does not require any electrical energy to operate.
Another operating mechanism is using an articulated crank rod, which will ensure smooth operation by eliminating the need for any unwanted pulleys or levers. Using these types of blind operations will also help enhance the overall aesthetics of outdoor blinds and help reduce any tripping hazards. These blinds offer a very compact and modern-looking design, which also eliminates the need for any unsightly mechanical parts.
There are advanced electrically operated models of track blinds. These can be operated using a remote control, and you can manage the blind operations from the comfort of your couch itself.  These are also coming with an optional wi-fi bridge now, where it can be fully operated from your smartphone app too. You can experience the most modern and sophisticated outdoor blind technology with smart home integration using such blinds. It is also possible to set up voice commands through Amazon Alexa or Google Home to control the blinds.
Choosing among these may be a bit confusing for the homeowners. The first consideration is for your budget to find a proper match, and then you can look for the features based on your comfort to choose the best. The best place to do your research is online, where you can find a wide range of options in outdoor blinds. Make use of the comparison feature to identify each product's pros and cons in light of the alternatives and shortlist your best options.