Civil unmanned aircraft are the next great frontier in aviation, according to the Aerospace Industries Association (AIA).
The AIA praised the FAA (Federal Aviation Administration) for announcing its Roadmap for "Integration of Civil Unmanned Aircraft Systems (UAS) in the National Airspace System."
At a Civil Unmanned Aircraft Systems Forum on Thursday, Michael P. Huerta, FAA Administrator said:
"The American aerospace industry is eager to support the integration into our domestic airspace of UAS systems that will help save and improve lives in a variety of ways. We're very pleased that through this roadmap and other actions, FAA is making significant progress toward meeting the congressional mandate of UAS domestic integration by 2015. This is a major step forward for realizing the full promise of aviation's next great frontier."
Civil unmanned aircraft – public privacy concerns
Huerta also talked about FAA actions to make sure public privacy concerns are addressed regarding six future UAS test sites in different parts of the country.
Huerta said "We are dedicated to working with stakeholders in this growing industry and with our government partners to safely integrate [UAS] into the world's most complex airspace."
"While aviation is unquestionably an industry known for innovation, it is also an industry with a strong history of collaboration between government and industry. The United States is recognized as the 'gold standard' for aviation safety, efficiency and technology. And we need to keep it that way."
The Aerospace Industries Association has been pushing for the beneficial uses of unmanned aircraft systems (UAS).
According to the AIA, UAS have potential for the following applications:
Cargo delivery
Firefighting
Pipeline monitoring
Precision agriculture
Search & rescue
Severe weather forecasting
Wildlife conservation
Law enforcement
Commercial fisheries
Communications relay
Aerial photography
Scientific research
Border patrol
The civil unmanned aircraft sector could create thousands of jobs. According to an FAA forecast, there will be approximately 30,000 unmanned aircraft operating inside US airspace within the next two decades.

U.S. T-Hawk systems were used to examine damaged reactors in Fukushima, Japan.
President and Chief Executive Officer of the Aerospace Industries Association, Marion C. Blakey, said "While much work remains before we reap the full promise of this technology, today's announcement about FAA's progress gives me, our industry, and the American public much reason for optimism."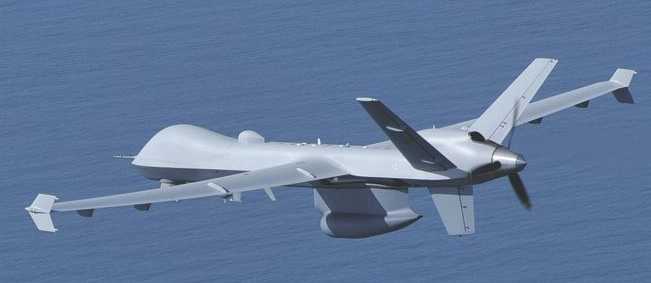 The U.S. Customs and Border Protection use the MQ-9 Guardian, made by General Atomics.
In a published study on unmanned aircraft systems, the AIA quotes a Monmouth University survey which showed that 80% of Americans approved of UAS use in search and rescue, 67% supported their use in tracking down criminals at large, and 64% favored using them in border patrols operations.