A classic Aston Martin fetched more than £10m, i.e., $13.23m, at the Goodwood Festival of Speed in West Sussex, England. A European bidder acquired the 1961 Aston Martin DB4GT Zagato, which F1 champion Jim Clark had also driven. Aston Martin only ever made three MP209 versions. This car is one of them.
Aston Martin broke record
In a press release, Bonhams, the company that auctioned the car, wrote:
"The most valuable lot of the sale was the exquisite '2 VEV,' the ex-Essex Racing Stable, 1961 Aston Martin 'MP209' DB4GT Zagato which achieved a staggering £10,081,500, making it the most valuable British car ever sold at European auction. It sold in the room to a European buyer."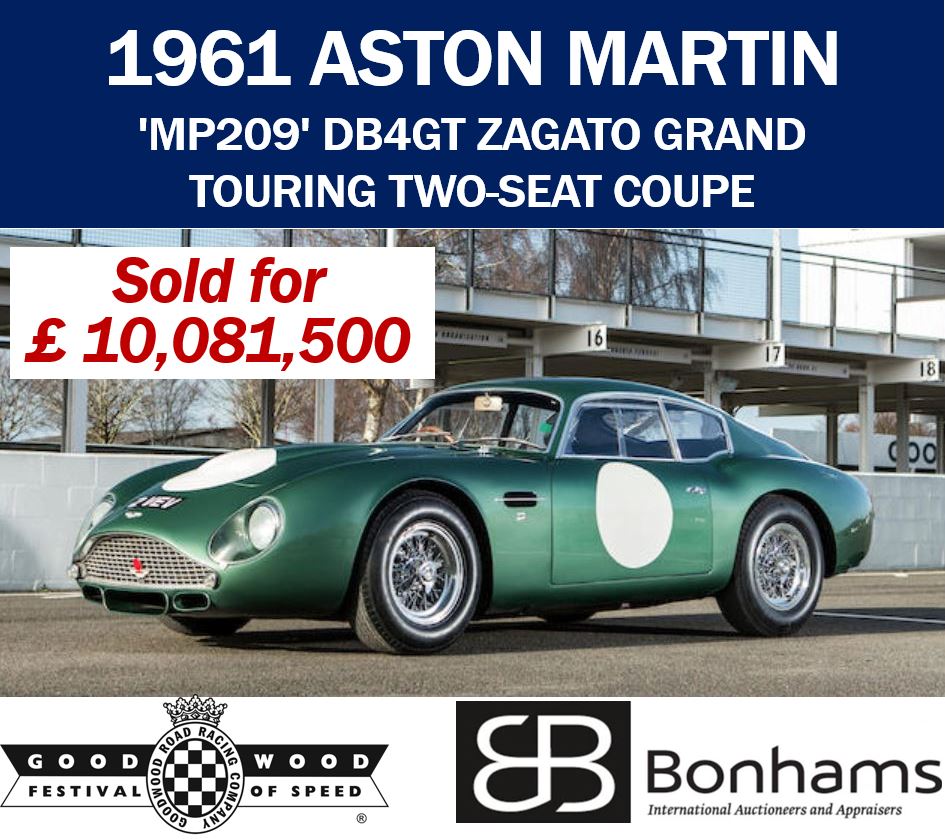 BMW also broke record
A 1957 BMW 507 Roadster fetched just over £3.8m against a pre-sale estimate of £2m to £2.5m.
A European purchaser acquired the motor car after a lengthy and tense bidding exchange.
It also set another record. In this case, the most a BMW has ever fetched.
Classic racing cars
The auction house said that classic racing cars were extremely popular this year. A road-going ex-Scuderia Ferrari 1932-34 Alfa Romeo Tipo B Grand Prix Monoposto fetched nearly £4.6m.
A newer model, 2012 Bugatti Veyron Super Sport Coupé, sold for just over £2m. This was much more than the auction house had expected.
Regarding the sale of the Aston Martin and other cars, James Kight, Bonhams Motoring Chairman, said:
"We are simply blown away by today's results. This is our 50th sale at Goodwood – which happens to coincide with the silver anniversary of The Festival of Speed – and it was the perfect celebration of classic and collectors' motor cars."
"The world records that we set today are indicative of the continued market desire for the historically significant motor cars with impeccable provenance such as '2 VEV' and the John Surtees BMW 507.
Mr. King was the auctioneer for the sale.
Goodwood Festival of Speed
The Goodwood Festival of Speed is a hill-climbing event which takes place in June or July each year.
It features historic motor racing vehicles in the grounds of Goodwood House, Chichester, West Sussex, England.
Each year, Festival organizers select the dates carefully because they don't want a clash with the Formula One season.
The annual event started in 1993. Initially, it only attracted tens of thousands of people. Now, however, crowds of approximately 100,000 people attend on each of the event's three days.
The sale of the Aston Martin and other vehicles is just one of many different events at Goodwood.
There is a Hill Climb, Soapbox Challenge, Forest Rally State, as well as a Supercar Run. There is also a Moving Motor Show and a Cartier Style et Luxe. The event even has real-life replicas of Wacky Races cars.