There is "clear deterioration" in hiring intentions by UK employers as a result of the Brexit vote, according to a report by CIPD and Adecco.
The percentage of employers expecting to increase staff levels over the next three months dropped from 40% before the Brexit vote to 36% after it.
The fall was much sharper among private sector employers.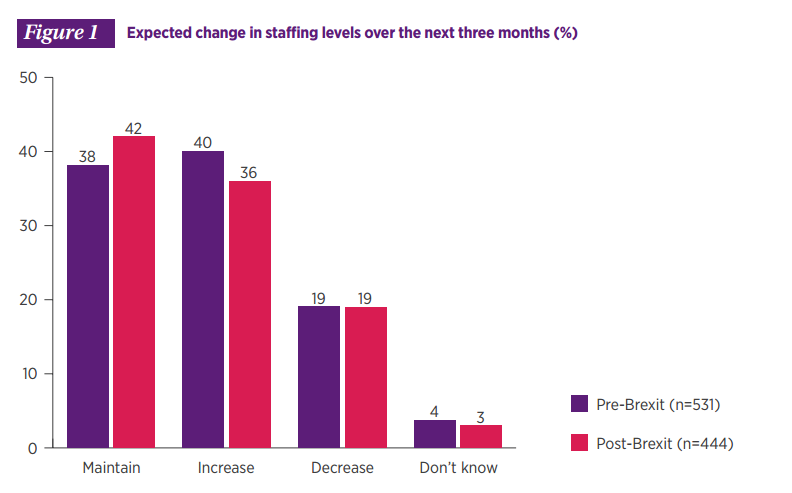 The survey was based on responses from 726 HR professionals between 10 to 23 June and 618 HR professionals between 8 to 17 July.
Some employers believe that migrant workers might leave the UK, but many respondents said that it is too early to tell how the migrant workforce will react.
The CIPD said that the results suggest "that post-Brexit economic forecasts of a marked downturn in the labour market in 2017, including a significant increase in unemployment," will prove to be right.
"While many businesses are treating the immediate post-Brexit period as 'business as usual' and hiring intentions overall still remain positive, there are signs that some organisations, particularly in the private sector, are preparing to batten down the hatches," said CIPD acting chief economist Ian Brinkley.
Adecco chief executive John Marshall said:
"Access to the Single Market's skills, services and goods is in doubt, and no one knows exactly when Article 50 will be triggered and what the post-EU world will look like for the UK. While outwardly projecting 'business as usual', one in three employers expect hiring to become harder in these uncertain times.
"This economic uncertainty can undermine employers' confidence and therefore impact recruitment decisions and investments.
But hiring freezes, reducing investment in training and development, and, in general, a wait-and-see approach will only make businesses more vulnerable to what the Article 50 negotiations may bring."
---
---
One in six UK employers considering relocating or cutting back on overseas expansion

The CIPD also asked employers if they had plans to relocate as a result of Brexit.
Almost three quarters, 74% of respondents, said they had no plans to relocate – although this was slightly lower for the private sector at 70%.
Only 7% of respondents said they were considering relocating all or some of their operations overseas, whilst 9% said they would focus expansion outside the UK.
The survey was based on responses from 1,050 HR professionals and employers carried out between 10 June and 3 July.