Britons are more worried today about climate change, with thirty-eight percent of respondents in a survey saying that global warming concerns them more now compared to five years ago, says ActionAid, an international non-governmental organization whose primary objective is to work against poverty and injustice globally.
Among Britons who are more worried today, one quarter say they are more concerned about the effect climate change can have on people in developing nations.
Most Britons think not enough is being done
With just a few days before the 2015 United Nations Climate Change Conference (COP 21) is held in Paris, France, the poll also revealed that 53% of respondents felt not enough is being done by global leaders to tackle climate change.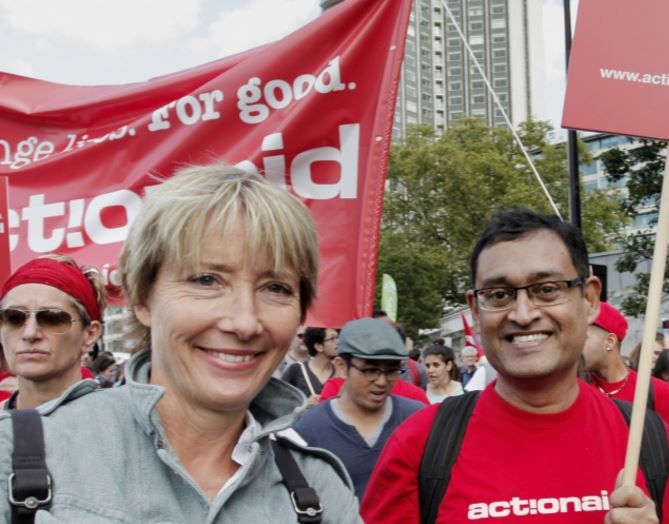 "Join ActionAid on the People's Climate March in London on 29 November to ensure world leaders don't ignore the voices of these women at crucial talks in Paris." Girish Menon – Chief Executive of ActionAid UK. (Image: ActionAid)
The poll – conducted by YouGov on behalf of ActionAid – involved 2,073 adults. Fifty-two percent of them expressed worry about climate change generally.
The study is being released to coincide with the launch of a new rain-triggered advertisement displayed digitally at Piccadilly Circus ahead of a London Climate March that will take place on Sunday, November 29th.
Girish Menon, CEO of ActionAid UK, said:
"Far too often climate change is dismissed as an issue for the future. But climate change is happening now, and is already destroying the lives some of the poorest people in the world."
"We are campaigning to show the devastating impact this is having on the lives of children in poorer countries like Bangladesh – whose childhoods are being washed away by climate change. ActionAid is working hard to support people to adapt and survive the worsening storms in Bangladesh, but we can't do this alone."
Aasma wants her daughter Shumona (9) to go to school.  But she's too scared to let her go. Three years ago, another local girl slipped from a bamboo bridge and drowned on her way to class. (Image: ActionAid)
Global warming affecting people in Bangladesh now
Sea levels are rising in Bangladesh, and many coastal islands have been submerged under water. As cyclones, storms and floods intensify, hundreds of lives and people's livelihoods are being lost each year.
According to ActionAid, fifty children drown each day. Their vulnerability only gets worse as the country becomes more waterlogged.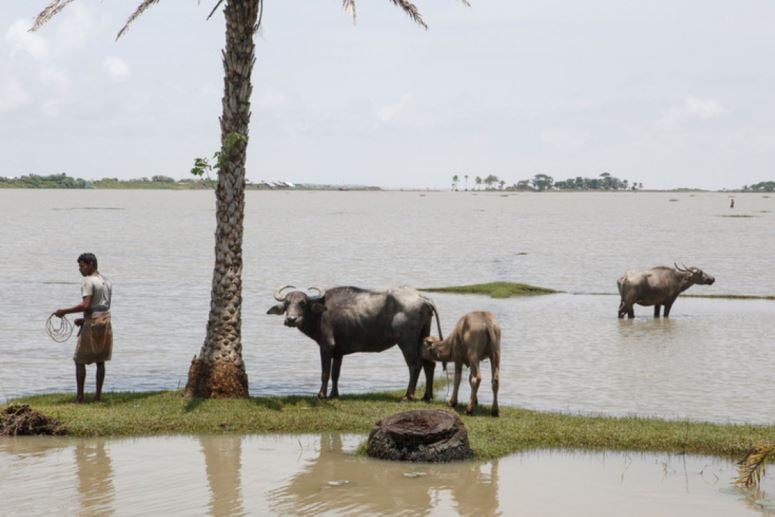 Nearly one fifth of Bangladesh could disappear if sea levels rise by up to a metre. (Image: ActionAid)
ActionAid is calling on members of the public to join their bloc at the London People's Climate March on Sunday, and demand that lawmakers and world leaders put the needs of nations like Bangladesh first.
Mr. Menon said:
"The London Climate March is an opportunity to call on global leaders to ensure that any deal puts the most vulnerable countries like Bangladesh first. Even if it's something you've never done before, come along for a fun and inspiring day out, and help show the world that we stand with the people of Bangladesh."
ActionAid Video – Light showers in Piccadilly
ActionAid's unique rain-triggered adverts highlighting the devastating impact of climate change on the children of Bangladesh, are appearing in Piccadilly Circus.