Coastal flooding could devastate the lives of one billion people globally by 2060 because of human-induced climate change, a new Christian Aid report has warned. Miami, Kolkata, and other cities in the United States, India and China face the highest risk of serious flooding, the authors say.
The United Kingdom is up there among the twenty-five most exposed coastlines worldwide, where incidences of coastal flooding are forecast to increase dramatically as sea levels rise. Large parts of London, East Anglia and other regions of the UK will be permanently submerged under several feet of water if urgent action to combat climate change is not taken immediately.
The authors of the Report wrote: "Although US and Chinese coastal cities will face the biggest financial losses, it's the poorest urban dwellers who have the most to lose." (Image: Wikipedia)
The report – Act Now Or Pay Later: Protecting a billion people in climate-threatened coastal cities – warns that a combination of extreme weather events, storm surges, and sea level rises will expose over one billion humans to coastal flooding by the year 2060.
---
---
Inhabitants of most polluting nations worst affected
Published on 16th May 2016, the Report reveals that inhabitants of the three largest carbon polluting countries – the US, India and China – will be most at risk.
According to forecasts for the year 2070, which the authors say are supported by the Intergovernmental Panel on Climate Change, Kolkata and Mumbai in India – with populations of 14 million and 11.4 million respectively – top the list of cities whose residents are most exposed to coastal flooding.
Much of London will become uninhabitable as sea levels rise.
In the high-risk league table, Miami is number eight, while the top seven cities are all in Asia.
By 2070, the authors forecast that Miami will suffer massive financial losses from coastal flooding, topping a separate list with a staggering $3.5 trillion of exposed assets. One trillion has twelve zeros, so Miami's loss, if the prediction comes true, will be $3,500,000,000,000.
The United States will probably have to pay a hefty toll for being the world leader in carbon emissions per capita (per head of the population), with New York predicted to suffer losses of about $2.1 trillion in exposed assets.
---
---
Guangzhou, historically known as Canton, the largest city of Guangdong province in South China, is forecast to suffer $3.4 trillion in losses by 2070.
Of the twenty cities globally forecast to suffer the most financial losses, six are Chinese and four are American.
Report author Dr Alison Doig, who is Christian Aid's Principal Climate Change Advisor, says these figures are a wake-up call ahead of next week's World Humanitarian Summit in Istanbul – 23-24 May.
Worrying fate of growing coastal urban areas
Dr. Doig said:
"We are facing a head on collision between the growth of coastal urban areas and climate change which makes coastal flooding more likely. This perfect storm is likely to bring about a heavy human and financial toll unless we do something about it."
"Cruelly, it will be the poor that will suffer the most. Although the financial cost to cities in rich countries will be crippling, wealthier people will at least have options to relocate and receive insurance protection."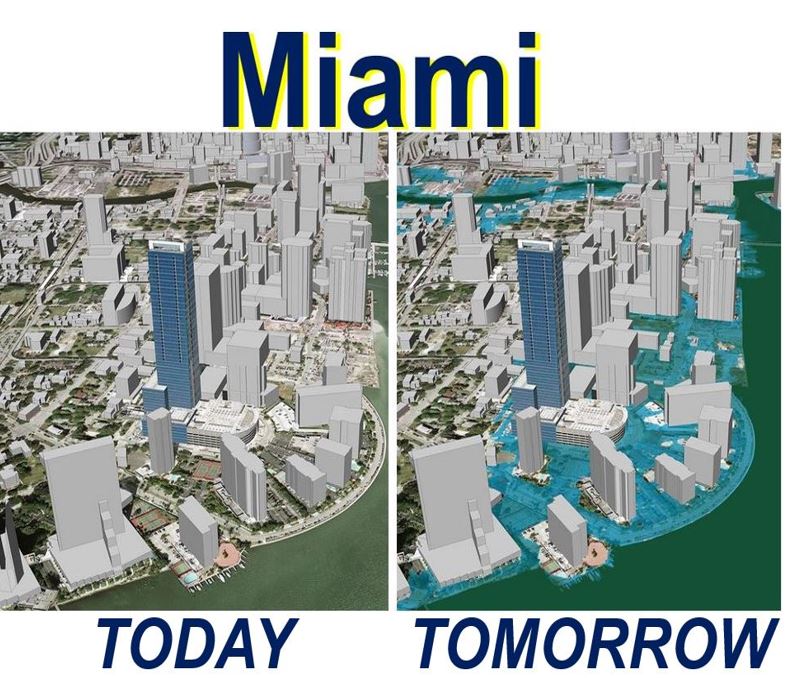 These two images show 'existing' conditions (left) along the Miami coastline, and what the same area will be like when the sea level has risen by one metre. On the right image, the light-blue colouring represents flooded areas. (Images: audubon.org)
According to available evidence, it is the poorest inhabitants who will suffer the most because they have the worst infrastructure and no financial or social safety nets to help them get back on their feet.
Dr Doig added:
"There is a chance this horrifying vision of the future can be avoided. It is striking that the cities facing the most severe impacts are in countries with high contributions of carbon emissions. The first thing we can do is speed up the global transition away from dirty fossil fuels to the clean, renewably energy of the future."
"We can also do more to prepare for such occurrences. For every $1 spent on reducing the risk of disasters we save around $7 later. Such investment is a no brainer."
Sandwiched between the sea and a big lake, Metro Manila, in the Philippines, is surrounded by a vast and complex river system. This swells dramatically throughout the monsoon and typhoon seasons, causing severe flooding in several urban areas. (Image: christianaid.org.uk)
Ban Ki-moon, General Secretary of the United Nationals, has urged that the percentage of global aid to be spent on disaster risk reduction be increased to 1%. This would bring the figure up to $1 billion. Christian Aid says there should be an increase to 5% of the total.
Dr Doig said:
"This billion dollars would go some way to help protect people in these cities now, and alleviate the threat for the billion vulnerable people at risk from coastal flooding by 2060."
The Report also lists which countries have the most people living in exposed coastlines by 2060. China is top of this list, with India in second place, followed by Bangladesh. The United Kingdom is twenty-second.
Dr Doig said:
"In the UK we've experienced in recent years the winter flooding that has left large parts of the country deluged. But these figures show that it's not just more rainfall we need to be wary of. The people living along our coastlines will become vulnerable to rising tides unless we do something about climate change."
The Report also explained that, overall, women suffer more acutely when there is a climate-related disaster.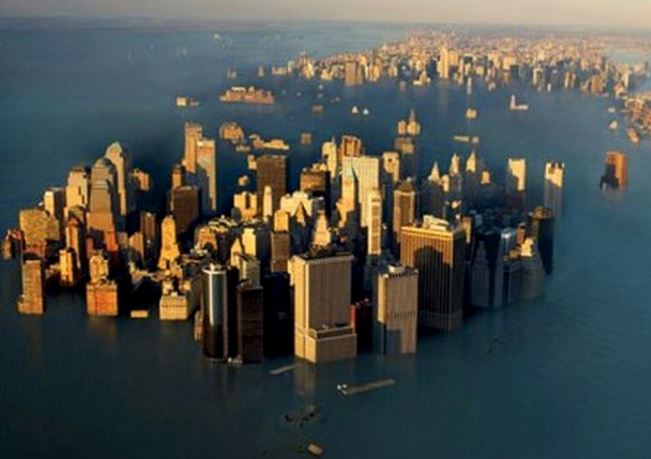 If rising sea levels made much of New York (above) and London – North America's and Europe's major financial centres – uninhabitable, the consequences for the global economy would be huge. Tokyo and Hong Kong – Asia's two major financial hubs – would also be badly affected.
The authors urge us to realise that climate change is not an abstract concept – it is increasingly felt by millions of our planet's inhabitants today. For people who live in coastal regions, the problem is only going to get worse.
Climate change will play an increasing role in causing – and also exacerbating – humanitarian disasters, especially within coastal cities.
Fifty-four percent of the global population lived in cities in 2014, compared to 34% in 1960. Most of this growth in the urban population has occurred in the less-developed regions of the world.
Experts estimate that by next year, even in the poorest nations, the vast majority of people will be living in urban areas.
A significant proportion of this urban growth is occurring along coastlines, which will be coming under increased pressure from global warming – through extreme weather, flooding and rising sea levels.
During the course of this century, people living in coastal cities will be forced to find ways of coping as water seeps into their homes and eventually floods them out.
If we do not take action now, there will be a colossal catastrophe which will claim not only many human lives, but also much of the wealth and civilisation we have built up over the centuries.
Video – Future sea level rise
This video shows the top ten countries threatened by a sea level rise.