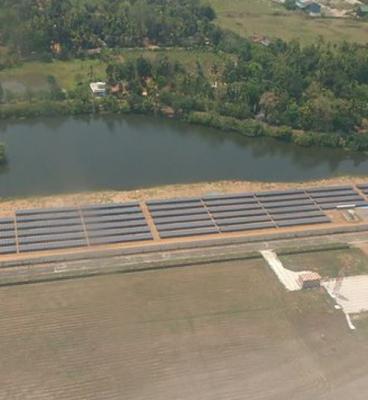 Cochin International Airport, in India, is the first airport in the world that operates 100% on solar power. The airport's 12 MWp solar power plant has 46,150 solar panels. They cover approximately forty-five acres near the airport's cargo complex. The airport serves the city of Kochi in the state of Kerala.
The solar power plant at Cochin International Airport generates 50,000 to 60,000 units of electricity per day. That is enough for all the airport's operational functions. The airport is, therefore, 'absolutely power neutral.'
One unit of electricity equals 1 kWh (Kilowatt hour). One kWh is what ten 100-watt light bulbs consume in one hour.
Cochin International airport ventured into the solar PV sector in March 2013 when it installed a 100 kWp solar PV plant. It stands on the rooftop of the airport's Arrival Terminal Block.
PV stands for solar photovoltaic. If something is 'photovoltaic,' it can produce electricity from light.
According to CIAL, what happened in March 2013 started a trend in the State of Kerala. CIAL stands for Cochin International Airport Limited.
Cochin International airport consumes c. 48,000 KWh per day
V.J.Kurian, Managing Director of Cochin International Airport Limited, said:
"When we had realized that the power bill is on the higher side, we contemplated possibilities. Then the idea of tapping the green power came in. We consume around 48,000 unit (KWh) a day."
"So if we can produce the same, that too by strictly adhering to the green and sustainable development model of infrastructure development that we always follow, that would transcend a message to the world."
"Now this has become the world's first airport fully operates on solar power. In fact, we are producing a few megawatts of extra energy which is being contributed to the state's power grid "-added Mr.Kurian."
What is solar energy?
Solar energy involves capturing the Sun's energy and converting it into electricity. We then use that electricity to power electric cars, light and heat our homes and businesses, etc. The term 'solar power' has the same meaning.
Solar energy is a type of renewable energy. In other words, the energy source never runs out, i.e., it is everlasting. Everlasting, in this context, refers to a human timescale.
Wind energy, geothermal energy, hydropower, and biomass energy, are also types of renewable energy.