A pilot in Florida flying a single-engine private plane raised a few eyebrows at FlightRadar24 when he followed a flight path that designed a 20-mile-long penis on their radar screen. He then went on to map out another huge male organ – the second one was not so good, people say.
In airspace between Tampa and Orlando, the pilot's antics were not visible to observers from the ground. You would need to have access to a radar monitor to understand what he was trying to do – and succeeded.
Somebody monitoring data at FlightRadar24, a popular website that tracks aircraft in flight around the world, saw the phallic flight paths and decided to let this be known on the Internet. Of course, as with anything super bizarre or funny that is placed online, the images have gone viral.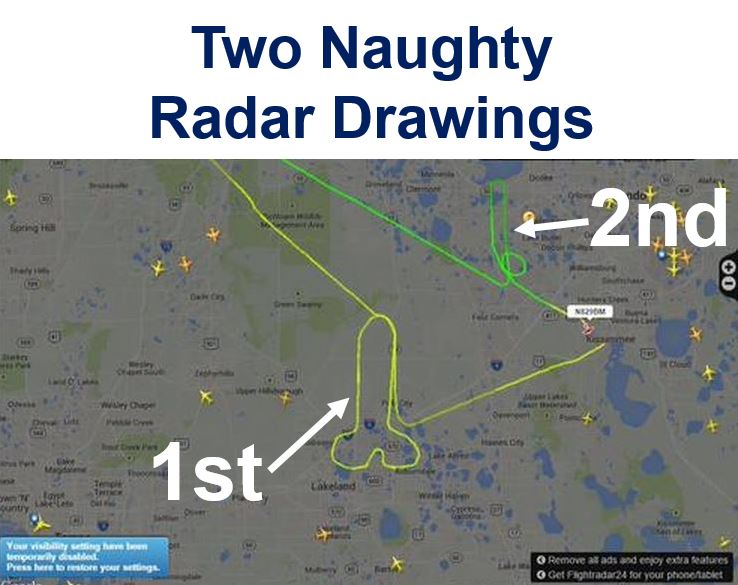 A FlightRadar24 buff took a screenshot and placed it on the Internet. (Image: Twitter)
On seeing the images, people tweeted several comments, from "Such expensive graffiti…", "with the cost of aviation fuel, good luck to them…", to "it's Florida. Anything can happen…"
A 20-mile-long statement
Experts have calculated, according to the Google Map data on FlightRadar24, the southernmost phallic image is approximately 20 miles long.
According to News 96.5, the other less impressive figure was extremely near to the restricted airspace above Walt Disney World.
The Van's Aircraft RV-12 took off from Kissimmee Gateway Airport just before 6.45pm. The two-seater plane flew south-west toward Lakeland where it made a sharp turn northward and started to make the lewd radar sketch.
It carried on flying at an altitude of 1,800 feet and then turned north-west toward the Gulf of Mexico before turning right round and returning to Kissimmee.
Shortly before flying over Walt Disney World it drew another slightly smaller naughty image.
If you are interested in data regarding airplane routes globally, you may find flightsfrom.com useful.