There has been a steep rise in financial difficulties, according to the Consumer Reports Index, as well as people reporting a weaker view of their overall financial health.
The report publishes data regarding individuals' financial difficulties over the previous 30 days.
The Consumer Reports Index registered 46 on its trouble tracker, a rise from August's 34.7. The steep rise was in large part due to financial difficulties among lower-income consumers – households earning up to $50,000 per year – as well as Americans with up to a high school education.
The "trouble tracker" registers what percentage of consumers are facing financial difficulties as well has how many problems they have had to deal with.
Well-off consumers and those with a college degree appeared have faced little change in the amount of financial trouble over the past thirty days.
America's very slow recovery is affecting lower-income households much more than other people in the socioeconomic ladder, the authors wrote.
Twenty-seven percent of lower-income households said that during the past thirty days they have not been able to afford medications or medical bills, compared to a national average of 16%.
For the first time in five months, the Consumer Report Index's sentiment measure dropped below 50%, to 48.6% (50.8% in August). Anything below 50% is seen as a negative sentiment measurement.
Sentiment has been falling for three consecutive months, and is now at its lowest level since October 2012. Lower-income households and consumers with up to a high school education reported the steepest declines in sentiment.
Ed Farrell, director of consumer insight at Consumer Reports, said:
"The economy is staggering along. This recovery remains the weakest since World War II. Uncertainty hangs over the lower-income consumers like a veil of smoke fed by the lackluster recovery in jobs."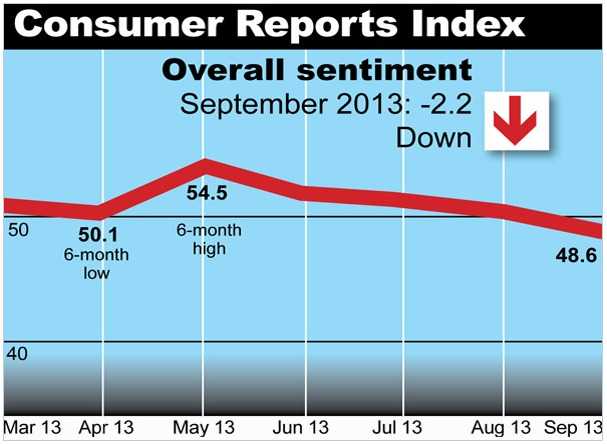 Employment measurement goes into positive territory
The employment measurement has moved into positive territory, according to the Report. More Americans reported starting a job over the last thirty days compared to August's figure.
The authors add, however, that September's employment position was mainly driven by a fall in job losses rather than new opportunities.
Retail measurement a "mixed bag"
September's Index regarding retail measurement was a "mixed bag", with past 30-day activity rising to 8.9 from 8.1 a month before. The authors suggest that school and college shopping played a role in pushing up the figure.
The gain in the retail measure was driven also by major home electronics, small appliances and personal electronics.
In a press release, Consumer Reports wrote "There are, however, indications that the consumer may pull back in the coming months, as this momentum did not carry over to planned spending for the next 30 days, which was down versus the prior month as well as from one year ago."
Consumer stress levels rose to 58%, from 53.7% a month before. The most stressed consumers are women (59.6%), those in lower-income households (62%), individuals aged from 35 to 64 years (60.9%), and people living in the North East (61.5%).