The cruise line industry forecasts 21.7 million passengers will take cruises in 2014, compared to 21.3 million in 2013.
The fastest growing cruise source markets are France 67.7%, Germany 80.5%, Brazil 84.8%, Australia 130.3% and Scandinavia 184.6%.
The Cruise Lines International Association (CLIA) carried out a survey of 63 member lines – State of the Cruise Industry – and forecasts 24 new ships in 2014-2015, expanding passenger capacity to 37,548.
By 2015 the fleet of CLIA members will total 410 cruisers. Over $8 billion will be invested in ocean going and river cruise categories.
CLIA President & CEO, Christine Duffy, said:
"The global cruise industry is at an exciting juncture with strong consumer interest in cruising and significant cruise line investment in a diversity of exciting ships that travel to the most exotic locations in the world and offer one-of-a-kind vacation experiences."
North America is by far the largest cruise market globally, with a 55.1% passenger source share.
The number of Europeans going on cruises stood at 6.4 million in 2013.
Cruise line industry deployment
Below is a list of the leading cruise destinations in terms of the number of ships deployed:
The Caribbean – 37.3%.
The Mediterranean – 18.9%.
Northern Europe – 11.1%.
Australasia – 5.9%.
Alaska – 4.5%.
Asia – 4.4%.
CLIA forecasts a +12% increase in the Caribbean, +5.2% in Northern Europe, +31.6% Asia, and +22% Australasia.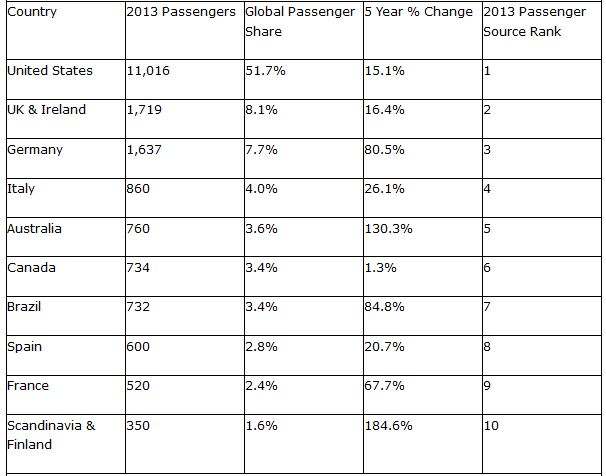 Top Ten CLIA Cruise Passenger Source Market Overview (Source: CLIA)
The cruise line industry and travel agents
Duffy said:
"Travel agents are the primary distribution channel for cruise sales and remain critically important to the cruise lines – with a majority of cruise bookings made by travel agents."
CLIA says its continuous commitment to its more than 13,500 travel agency members around the world reach over 50,000 agent members.
Below are highlighted data from a survey of 500 CLIA agents carried out in December, 2013:
More than 60% reported an either 'good' or 'excellent' 2013.
92% believe 2014 will be at least as good as 2013.
Over 70% expect their cruise sales to be either 'good' or 'excellent' in 2014. ('Good' means steadily improving over the years, 'excellent' means best year ever)
87.7% of respondents said they had similar or greater new cruiser sales.
Agents say customers continue having a wide range of preferences. Contemporary cruising was preferred by 76.7% of consumers, premium cruise lines by 67.7%, and destination/niche cruise products by 66.2%. Also, 61.3% expressed a high interest in river cruising.