After a recent trip to Sillicon Valley the CEO of Daimler, Dieter Zetsche, said that tech giants Google and Apple have made more progress on automotive projects than he had expected.
Zetsche was quoted by Reuters as saying that his team's "impression was that these companies can do more and know more than we had previously assumed. At the same time they have more respect for our achievements than we thought."
According to a report by the German newspaper Welt am Sonntag, a number of senior managers at the company held meetings with around 70 firms in California.
"There were concrete talks. I will not say anything about the content. It was not just about the fact that there is an innovative spirit in the Valley. We know that already. We wanted to see what drives it, and all the things that can be created from it," Zetsche told the paper.
The German businessman expects Mercedes-Benz to experience significant growth in the US this year, with the market for passenger cars estimated to expand by somewhere between 1-1.5 percent.
Google wants to form partnerships with major automakers
The comments by the Daimler boss come shortly after Google said it plans on partnering with major automakers to push forward with the development of its self-driving cars. Google has not made any specific remarks about which companies it plans on teaming up with.

However, Jogn Krafcik, the head of the Google self-driving project, recently told a room full of automotive executives at the Detroit auto show: "We hope to work with many of you guys."
"Automakers have a track record of producing cars at scale," Mr Krafcik said. "As work progresses, we look forward to working with many of you people as we bring this technology to market."
"No one goes this alone," Krafcik said. "We are going to be partnering more and more and more."
---
---
Daimler AG has showed increasing interest in autonomous technology over the past year.
At CES 2016 in Las Vegas it was revealed that US regulators gave Mercedes-Benz a license to test new E-Class standard-production cars in autonomous mode.
And at the CES event last year Mercedes-Benz unveiled its F 015 Luxury in Motion research car.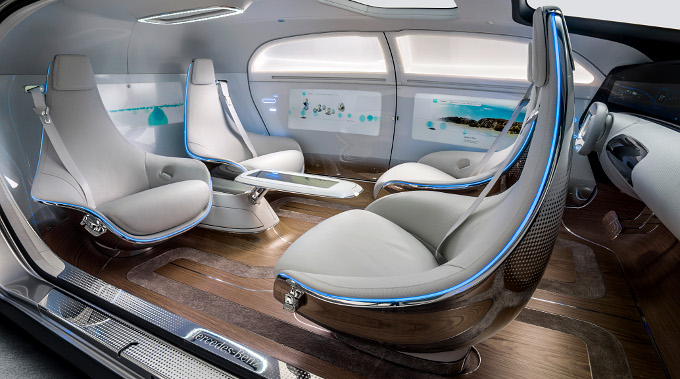 The F 015 research car is a driverless vehicle which offers maximum space in an interior resembling a lounge.
Dr Dieter Zetsche, Chairman of Daimler AG and Head of Mercedes-Benz Cars, said at the time:
"The single most important luxury goods of the 21st century are private space and time. Autonomously driving cars by Mercedes-Benz shall offer exactly that. With the F 015 Luxury in Motion, this revolutionary concept of mobility becomes tangible for the first time."
In addition, the German automaker has tested a driverless S-class sedan which traveled 103 km (64 miles) without any driver input.
So it's fairly evident that Daimler is showing increasing interest in the development of driverless vehicles. It will be interesting to see whether a partnership will be formed between Daimler and one of Silicon Valley's leaders in the field of autonomous tech (such as Google).