Ensuring that your house is designed exactly how you want can be demanding. However, modern technological advances have made this process easy. Currently, designing your home is a simple process, provided you have a good 3D architect software in place.
However, if you are not good at doing this, you can as well employ the services of 3D design experts such as Gnet 3D. Such experts make use of numerous applications that provide an easy way of designing homes in 3D. Below are four of the best 3D home architect apps.
1. Live Home 3D Pro
Topping our list is the Live Home 3D Pro that helps enthusiasts design and build homes of their dreams. This app is perfect for both homeowners and professional designers looking to build their new homes as well as those who want to revamp their old houses. It offers advanced design tools that make it possible to view all the details of the project.
Live Home 3D Pro comes with a rich object library filled with thousands of 3D objects and furniture sets. Several in-app purchases also make the app fascinating to use. Among the in-app purchases include more than 600 additional materials and approximately 200 additional house plans that sharpen the end-result to look exactly like its digital design.
The app supports both 2D and 3D real-time rendering. It also has no limit to the number of stories designed and natural light can be adjusted by setting your planned homes geographic location and time. Lastly, the finished design can be exported to X3D, Collada, 3DS and FBX formats.
2. 3D Architect Home Designer Pro
Coming second is the 3D Architect Home Designer Pro. This home design software is made specifically for construction companies and professionals. It is also optimized for first-time users, this can be used by those without much experience in making 3D home designs.
From the tool, you can create 2D house floor plans, which can be easily converted to 3D models to give a better view. 3D Architect Home Designer Pro also comes with numerous landscaping tools that can add various ponds, paths and allows change in height levels. The app's terrain brush also allows professionals to edit the design's landscape easily.
To create designs faster, this tool features a library with thousands of furnishing items and textures. It also supports realistic 3D textures and users can import objects from SketchUp 3D Tool. Before finishing on the design, you can view the new design from a first person's point of view, thanks to the 3D walkthrough function. With a possible view, you can modify in-line measurements to your desired lengths.
The 3D Architect Home Designer Pro allows designers to choose between night simulation light effects and day effects. You can also choose from the various 3D rendering options, including the 3D texture overlay. The plan mode assistant makes it easy for first-time users to create detailed drawings.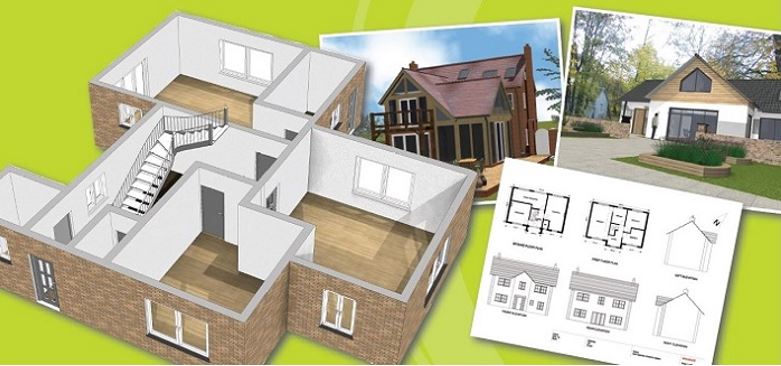 3. Architect 3D Ultimate
If you are searching for a powerful 3D design software, you should consider the Architect 3D Ultimate. It allows for photorealistic rendering and allows designers to view their homes in 3D. Unlike our previous application, the tool supports designs scaling up to 20 floors, perhaps perfect for large-scale projects.
With this tool, you can design both home and garden views with its simple to use interface. It is also compatible with all versions of windows and works with various 3D design tools including 3D Studio Max and AutoCAD.
Architect 3D Ultimate also comes with 3D furniture database where designers can choose from the more than 3500 objects. You can as well import your own images for better rendering. Additionally, you will like the Global Sun Positioning feature that shows how the house will look under different lighting conditions.
The application also features home automation tools, security system, fireplace wizard and a swimming pool tool. From the app, users can see their plumbing, electricity, ventilation and heating plans. Like other apps, you can have a tour of the house both in 3D and 2D views.
4. Sweet Home 3D
Sweet Home 3D is a good application of choice for those who want a free 3D architect software. With the app, you can design here house from scratch; easily draw straight, sloping or round walls. You can as well add windows, doors and furniture, which is divided into various categories.
All the items support customization and users can change color, location, thickness, the orientation of floors, furniture and walls. You can design the house in 2D but can be viewed in 3D mode with the aerial point of view.
Sweet Home 3D also supports annotations making it possible to add all the necessary information such as room dimensions, arrows and names. You can also change the light settings to see how your rooms will appear during different times of the day.
Designing a new home shouldn't be as hard as you may think. You can also do it without prior 3D modelling experience if you have the proper software. Try out any of the above-mentioned software for your design needs. Consider expert services if you aren't comfortable handling this on your own.