Effective prospecting of sales poses a significant challenge. Closing deals with such a practical efficiency level seems to be an entirely overwhelming challenge without the help of any kind of automated dialer system.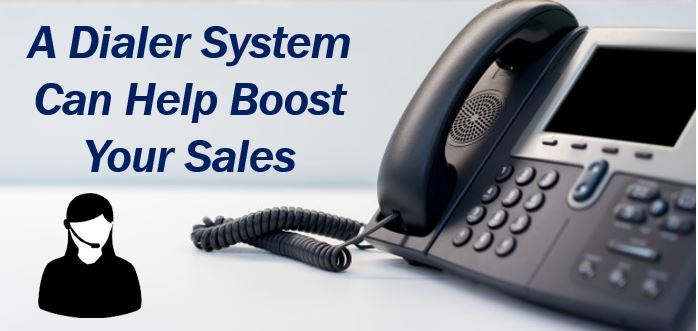 In contexts of phone marketing, there are several useful tips to put into consideration that can benefit you more than your rivals. The key is conducting quality calls to each lead. To accomplish tasks with much less time, sales teams need to have a tool to make calls as quickly and efficiently as possible. You may rely on the phone dialer system to maximize productivity in sales and lessen manual labor.
What is a dialer system?
At the most basic level, a dialer system is a system that makes outbound calls to customers from a contact center. The purpose is to minimize the expense of making phone calls by eliminating several redundant and error-prone tasks. Dialers further increase productivity by engaging agents directly with clients when they become available.
Automated dialing ensures that contact center agents will not waste too much time manually inputting phone numbers; therefore, they spend more time talking to clients.
It typically takes plenty of phone calls to strike a deal. By average, at least eight calling attempts are expected to reach the appropriate decision-maker on the phone, even though they are already considered a 'warm' lead. Also, a lead will generally say 'no' four times (on average) before they finally say 'yes' to a deal. Prospecting sales is a difficult task for any sales team.
Fortunately, there have been plenty of newly advancing sales dialer systems that can make unproductive cold calling a distant memory. However, there seem to be so many, and the terminology is ambiguous then read on to make it much easier for you to understand.
Dialer System: The 3 Most Common Types
Given the overwhelming number of dialer names tossed around, there are three predominant types of dialer systems used today.  The three key common types of phone dialers are the following:
1. Auto dialers
The Auto Dialer system is the most well-known dialer. Auto dialing is also referred to as the shotgun dialing, mainly because this system continuously calls as many telephone numbers as possible, attempting to connect to any lead. If an unknowing recipient picks up the cold call, the auto-dialer will either play a voice message (known as the voice broadcast or merely robocalling) or directly connects the call to an agent.
Autodialer systems are widely used in large companies involved in making an extremely high number of calls. Telemarketing sales teams that sell global brands, survey results, collection agencies, or other businesses that operate simple cold-calling programs may profit greatly from just a straightforward mass autodialer. Personalization is not a primary consideration for such programs.
An auto dialer's evident benefit is exceptional outreach, but it will come at a high cost. When an autodialer is used to directly engaged accepted calls to a live agent for advertising or sales purposes, the agent may forget about prior strategic planning or lead research. This eventually makes it rather unlikely to close any type of deal.
Furthermore, there could be an unreasonable interval between when the lead responds and when the agent is likely to respond to the call. This tends to happen when at a certain time, multiple lines which are dialed simultaneously are received, which is not uncommon. This kind of time-wasting is deemed a violation of consumer rights, and in many states robocalling is strictly illegal. Be aware that using a mass auto dialer means adhering to strict US enforcement rules.
2. Predictive dialers
Next up would be the predictive dialer system. This would be on a step higher than the autodialer. A predictive dialer is a smart auto dialer that readily dials several numbers based on an algorithm and directly engages the call to a live agent if it has been successfully picked up by the other line. Predictive dialers potentially reduce the 'waiting time' of the agent from about 30 percent to just 5 percent, which has a substantial effect on productivity.
Predictive dialers seek to determine precisely what proportion of calls ultimately will be connected. For instance, if it is predicted that 25 percent of the numbers being dialed from the dialer-list will pick up and answer the phone, the predictive dialer will simultaneously dial four numbers based on the likelihood that at least one will respond.
The dialer would attempt to dial more than the predicted percentage because that might lead to a situation where many leads are picking up, but the live agent can only handle one call. However, in reality, no algorithm is completely perfect. Even with the AI's best efforts, it still has a very high possibility for several customers to be able to answer the predictive dialer at once, which leaves one getting a dead line on the other end.
In addition, predictive dialers rely on voice message recognition systems to handle the calls appropriately. These systems can detect live delays, opening words, and other typical conversation characteristics to establish whether the lead has responded or have reached the voice mail. If the dialer makes an error, it might eventually leave the person on the phone with a voicemail (robocalling) or diverting a deserted line to an agent, which would be disappointing for the sales department.
A predictive dialer is only appropriate for businesses that make a comparatively significant number of outbound calls (such that predictive inaccuracies are minimal losses), where a live agent usually attends every call.
3. Progressive dialers (includes preview dialers)
Progressive dialers are the most personalized dialer system, and the most innovative of progressive dialers is what they call the power dialer (more on this on the latter part).
Progressive dialers only call one number at a time, thus their label as 'progressive.' In the very simplistic level, a progressive dialer identifies if a call has been terminated by an agent and instantly dials the next phone number in the predetermined list.
A preview dialer is a particular type of a progressive dialer system. With this type of dialer (a more advanced type of progressive dialer), it will give an agent a certain degree of control over a call process.
A preview dialer generally shows the programmed call number list to the agent, who could then determine whether he or she will bypass the next number in the list or not. In addition, a preview dialer shows the lead's information about the prospective opportunity, enabling the agent to take a few moments to evaluate before the call is made.
---
Interesting related article: "What is Telemarketing?"