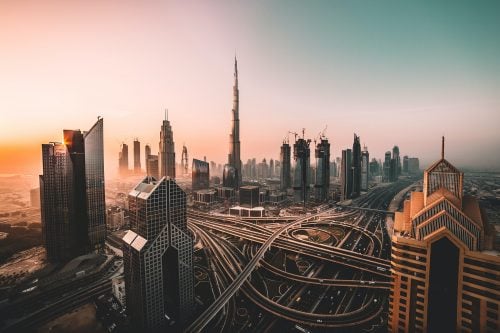 Dubai, a vibrant city in the United Arab Emirates, is known for its luxurious lifestyle, iconic landmarks, and attractions. From the world's tallest building to the biggest indoor theme park, Dubai has something to offer everyone. In this article, we will explore some of the top attractions in Dubai and take a closer look at the Dubai Garden Glow attraction.
Burj Khalifa
Burj Khalifa is the tallest building in the world, standing at a height of 828 meters. Located in the heart of Dubai, this iconic structure is a must-visit attraction for tourists. Visitors can take a high-speed elevator to the observation deck on the 124th floor and enjoy stunning views of the city skyline. The observation deck also features an outdoor terrace where visitors can feel the breeze and take some incredible photos.
Apart from the observation deck, Burj Khalifa is also home to a luxurious hotel, offices, and residential apartments. Visitors can also enjoy a fine dining experience at the top of the tower at At.mosphere, the world's highest restaurant.
Dubai Mall
Dubai Mall is the largest shopping mall in the world, offering a wide range of shopping, dining, and entertainment options. The mall is home to over 1,200 stores, including high-end luxury brands, a giant aquarium, a VR park, an ice skating rink, and a 22-screen cinema. The mall also houses the Dubai Fountain, one of the largest choreographed fountain systems in the world.
Apart from shopping and entertainment, Dubai Mall is also a hub for art and culture. The mall has an Art Gallery, showcasing works from renowned artists, and an indoor waterfall, named "The Waterfall," designed by French artist Jean-Michel Othoniel.
Dubai Miracle Garden
Dubai Miracle Garden is the world's largest flower garden, featuring over 45 million flowers arranged in unique designs and patterns. Located in Dubailand, this garden is a visual treat for nature lovers and a paradise for photographers. The garden is open from November to May every year and features various themes, including a floral castle, heart-shaped pathways, and an Emirates A380 plane made entirely of flowers.
Apart from the flowers, Dubai Miracle Garden also features a butterfly garden, a flower park, and a trampoline park. The garden is also home to a variety of food stalls and restaurants, offering a range of international cuisines.
Dubai Garden Glow
Dubai Garden Glow is a unique attraction in Dubai, featuring a magical world of lights, colors, and sculptures. Located in Zabeel Park, Book Garden Glow Tickets and enjoy attraction features three themed zones, including the Dinosaur Park, the Glow Park, and the Art Park.
The Dinosaur Park features life-size dinosaur models, including the famous T-Rex and Velociraptor, with light and sound effects, making visitors feel like they have traveled back in time. The Glow Park features thousands of colorful lights arranged in various shapes and designs, including an underwater world, a forest of light, and a giant replica of the Burj Khalifa.
The Art Park features unique sculptures and installations made from recycled materials, including a replica of the Burj Khalifa made entirely of plastic bottles. Visitors can also enjoy live performances by street performers and magicians.
The Magic Park which is one of the main attractions of Dubai Garden Glow is the Magic Park, which is an indoor amusement park that offers a range of interactive and immersive experiences. Book Magic Park tickets and enjoy visitng various sections, each with its own unique theme and activities. Visitors can explore a mirror maze, try their hand at virtual reality games, experience a 4D cinema, and much more.
One of the main highlights of Dubai Garden Glow is the illuminated butterfly garden, featuring over 10,000 butterflies made from recyclable materials. Visitors can also enjoy a range of food stalls and restaurants, offering a variety of cuisines.
In conclusion, Dubai is a city that never fails to amaze its visitors with its larger-than-life attractions and luxurious lifestyle. From the tallest building in the world to the largest flower garden, Dubai has it all. Among the various attractions in Dubai, the Dubai Garden Glow stands out for its unique blend
---
Interesting Related Article: "The Impact of Electric Cars on the Used Car Market in Dubai"