After being in the public sector for five years the East Coast rail route between London and Scotland is being privately run again.
Since November 2009 the services on the line have been operated by a Section for Transport (DfT) controlled firm.
East Coast line is being been taken over by Virgin and Stagecoach in a joint venture called Virgin Trains East Coast – effective today.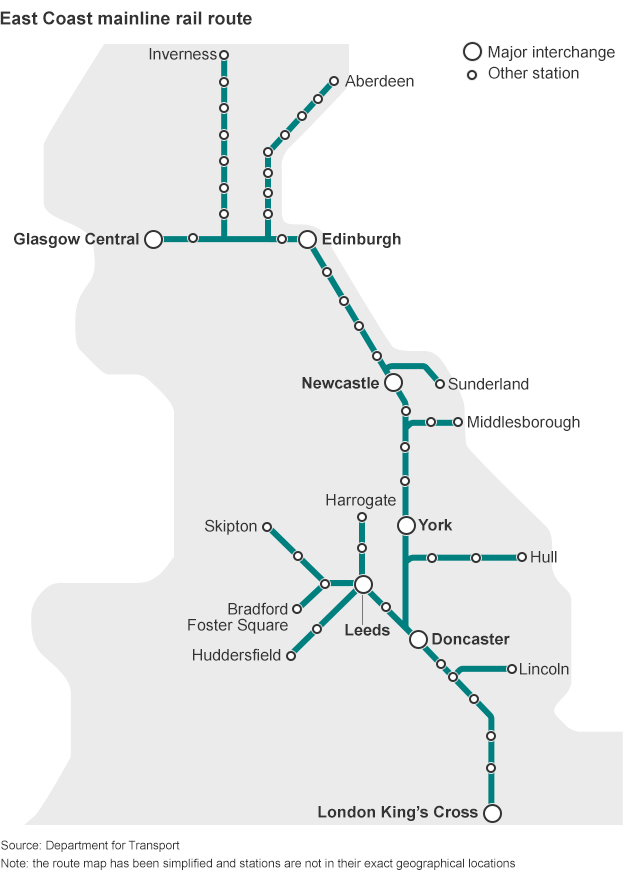 The DfT said the move is "the best deal for passengers".
Unions have criticised the change
TUC general secretary Frances O'Grady said that he was disappointed to see the rail line be privately run again "after five years of public sector success".
"The government's decision to re-privatise the line is a costly mistake," he said.
Adding:
"The government has ignored the evidence, which shows that under public ownership East Coast returned increased profits, has record-high passenger satisfaction levels and has added £1bn to Treasury coffers."
The Rail, Maritime and Transport union (RMT) general secretary Mick Cash claims the new private operators are solely motivated by profit.
He said the move was "based on pure, hard-right, Thatcherite ideology" and was "an act of industrial vandalism".
Department of Transport confident in East Coast rail's future
A Department for Transport spokesman said:
"The skills and experience that the private sector provides drives forward innovation and investment, and has helped to transform our rail network into a real success story."
"We are confident that the new East Coast franchise gives the best deal for passengers."
More seats, more services, and new trains
"It will provide more seats, more services, new trains and over £140m of investment along the route."
"In addition, more than £3bn will be paid to taxpayers."