Air France's two-week long pilot strike helped Luton-based airline carrier EasyJet boost revenue by ₤5 million. The low-budget giant lifted its profit forecast after a strong end to its financial year.
Air France passengers switching to Easyjet during the strike helped increase passenger numbers in September by 7.5% to 6.14 million.
The UK's largest airline by number of passengers carried expects pre-tax profit for the year ending September 30 to be between £575 million and £580 million.
The company expects to declare a dividend based on a pay-out ratio of 40% of post-tax profits.
CEO, Carolyn McCall, said:
"EasyJet has continued to execute its strategy, delivering another strong performance in the second half of the year. This has enabled EasyJet to deliver record profits for the third year in a row. This will also lead to our largest ever ordinary dividend payment as we are also proposing to increase the proportion of our profits after tax paid in dividends from 33% to 40%."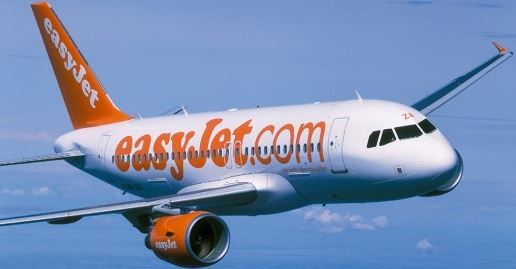 EasyJet is popular with price-conscious business passengers.
The dividend news should please Sir Stelios Haji-Ioannou, the airline's founder. The Haji-Ioannou family owns about 35% of the company and have been calling for higher dividends rather than the purchase of extra aircraft. Sir Stelios says about half the company's profits should go to shareholders.
Budget airlines winning market share war
In September, Air France pilots went on a 2-week strike because they did not want the airline to concentrate on growing its budget airline Transavia.
Air France, along with rivals Lufthansa and other European flagship carriers are struggling amid fierce competition from low-budget airlines such as EasyJet and Ryanair.
Air France's strike, which sparked losses of €20 million per day, was called off on September 28th, even though negotiations are ongoing and nothing has been resolved. Lufthansa pilots also went on strike last week.
EasyJet, whose planes are now flying 90% full (average), said improved efficiency had offset higher regulated airport charges and other costs linked to carrying more passengers.
The airline has sold over one quarter of all its seats for the coming October-to-March period, which is marginally higher than last year.
During the last quarter of its financial year, Easyjet said revenue per seat increased by approximately 1.5%, helped by a strong end of summer season.
Unlike its European flagship counterparts that have been cutting back on short-haul routes, EasyJet has been adding.
Easyjet is expanding faster than larger rival Ryanair. It says it is because its planes fly to main airports in major cities, thus attracting more business passengers, while at the same time offering its service at much lower prices than the big carriers.
The carrier's shares increased by over 6% to £14.59 at close of trading on Friday.
About EasyJet
EasyJet plc was founded in 1995 by Greek Cypriot businessman Sir Stelios Haji-Ioannou. Today it operates more than 600 routes in 32 countries. The airline's fleet comprises 203 aircraft, mostly Airbus A319.
In 2013, the airline carried more than 60 million passengers. It employs over 8,300 workers.
Euronews Video – EasyJet lifted by Air France strike