The American multinational e-commerce company eBay performed better than expected in the first quarter of 2015. It reported first quarter profit and revenue well above what analysts had forecast.
Profits for the first three months of the year increased to $626 million from a loss of $2.326 billion in the first quarter last year.
The company reported that revenue for the quarter ended March 31, 2015 revenue rose to $4.448, a 4% increase compared to last year.
According to eBay, "commerce and payments ecosystems continued to increase the role they play in global commerce, but the strengthening dollar significantly impacted first quarter results and reduced the 9% organic growth rate to 4%."
Revenue at eBay would have been 7% higher if it weren't for volatile exchange rates.
---
eBay Inc first quarter 2015 financial highlights:
(Presented in millions, except per share data and percentages)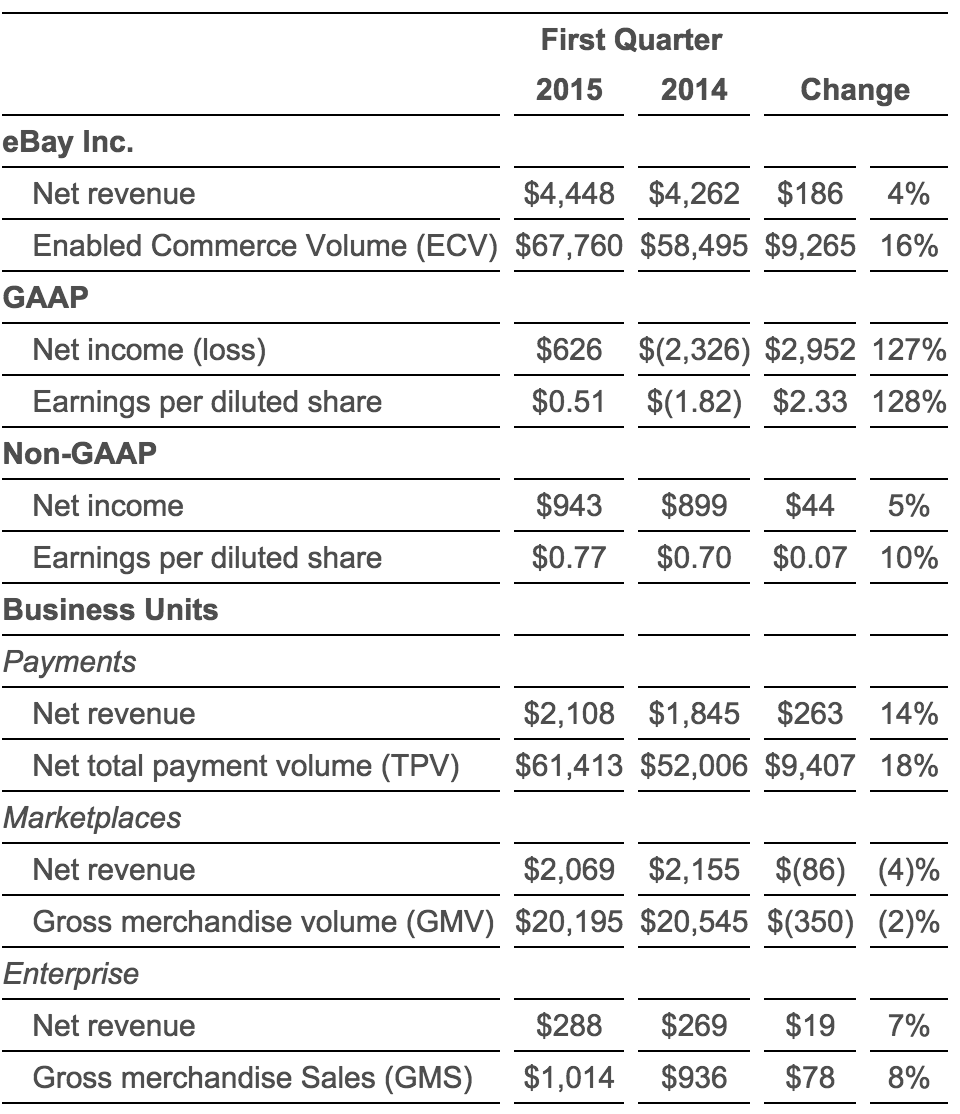 Source: eBay Inc
---
"We had a strong first quarter, with eBay and PayPal off to a good start for the full year," said eBay Inc. President and CEO John Donahoe.
"I feel very good about the performance of our teams at eBay and PayPal. Each business is executing well with greater focus and operating discipline as we prepare to separate eBay and PayPal into independent publicly traded companies.
"We are moving forward with clarity and speed, with a smooth separation expected in the third quarter. We are deeply committed to setting up eBay and PayPal to succeed and to deliver sustainable value to our shareholders."
Business outlook for fiscal 2015
For the full year, eBay expects adjusted earnings between $3.05 to $3.15 a share, higher than what analysts expect of $3.09. It forecasts full-year revenue in the range of $18.35 billion and $18.85 billion, versus a Wall Street expectation of $18.9 billion.
Shares of the company rose by more than 5% in extended trading.
---
Video – E-Commerce
eBay is an e-commerce business.
---