Collaborators on the Ecoship project have signed a letter of intent to go ahead and build the world's greenest cruise ship.
Ecoship is the brainchild of Peace Boat, a global, non-governmental operator of educational cruises with head offices in Japan.
They want to construct "the planet's most environmentally sustainable cruise ship" with a view to launching it in spring 2020.

Ecoship will be fitted with retractable solar panels and "sails" for capturing wind power. Image: Peace Boat
The 60,000 gigatonne vessel, which will have a capacity for 2,000 passengers and 750 cabins, is to be built by Arctech Helsinki Shipyard in Finland.
Ecoship will be a platform for Peace Boat's educational cruises which, every year, carry 6,000 people around the world.
---
[advert]
---
Host green technology exhibitions
The plan is also to use Ecoship to host green technology exhibitions in up to 100 ports a year and as a floating laboratory for sustainability research on the ocean as well as climate and green marine technology.
The ship will also be used to raise awareness and get people involved in the challenges enshrined in the Sustainable Development Goals.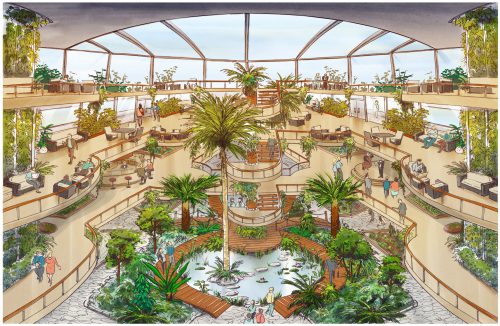 Ecoship will host "green tech exhibitions" on board. Image: Peace Boat
Ecoship's design has been several years in the making and has involved experts in marine engineering, naval architecture, energy efficiency, renewable energy, and maritime law, among others.
A key theme is "nature-inspired technology and design," resulting in a whale-like shape below and above water, natural ventilation, air bubble hull lubrication, and "biophilic design for comfort and inspiration."
With the help of solar panels, wind power, and liquid natural gas, Ecoship should generate 40 percent less carbon dioxide than a conventional equivalent cruise ship. The designers also anticipate a 20 percent cut in propulsion energy and 50 percent cut on electricity load.
Ecoship will be fitted with retractable solar panels and "sails" for capturing wind power and will also have an "integrated heat recovery and reuse system."
'Game changer for the shipping industry'
The signing of the letter of intent was announced at Nor-Shipping, a global shipping exhibition and conference that is held every year in Norway. The final contract was due to be signed about now.
Among those making the announcement were: Yoshioka Tatsuya, founder and director of Peace Boat; Esko Mustamaki, CEO of Arctech; and Jon Rysst, Senior Vice President and Regional Manager North Europe of DNV GL, an international classification society that is based in Norway.
"We believe this ship will be a game changer for the shipping industry and will contribute to the protection of the environment," said Tatsuya.
---
[ad2]
---
Mustamaki added that "Ecoship will combine Arctech's know-how in technically advanced and environmentally friendly vessels with the well-established expertise of the Finnish shipbuilding network in designing and building of high-class cruise vessels and other special products."
Video of Ecoship
The following video from Peace Boat summarizes the concept and goals of the Ecoship project.
The Ecoship Project from Peace Boat on Vimeo.