British mobile network operator EE showcased ultrafast 400Mbps 4G LTE trials at Wembley Stadium. In this context, the word 'trial' means a test to determine whether something works as it should.
The next-gen 4G technology will boost top mobile broadband speeds up to 400Mbps.
EE collaborated with Qualcomm and Huawei. A Qualcomm Snapdragon 810 CAT 9 processor combined three different EE spectrum (a 20MHz of 1800MHz spectrum, 20MHz of 2.6GHz spectrum and 15GHz of 2.6GHz spectrum) to achieve 400Mbps speeds on a single device.
Speed Test Results: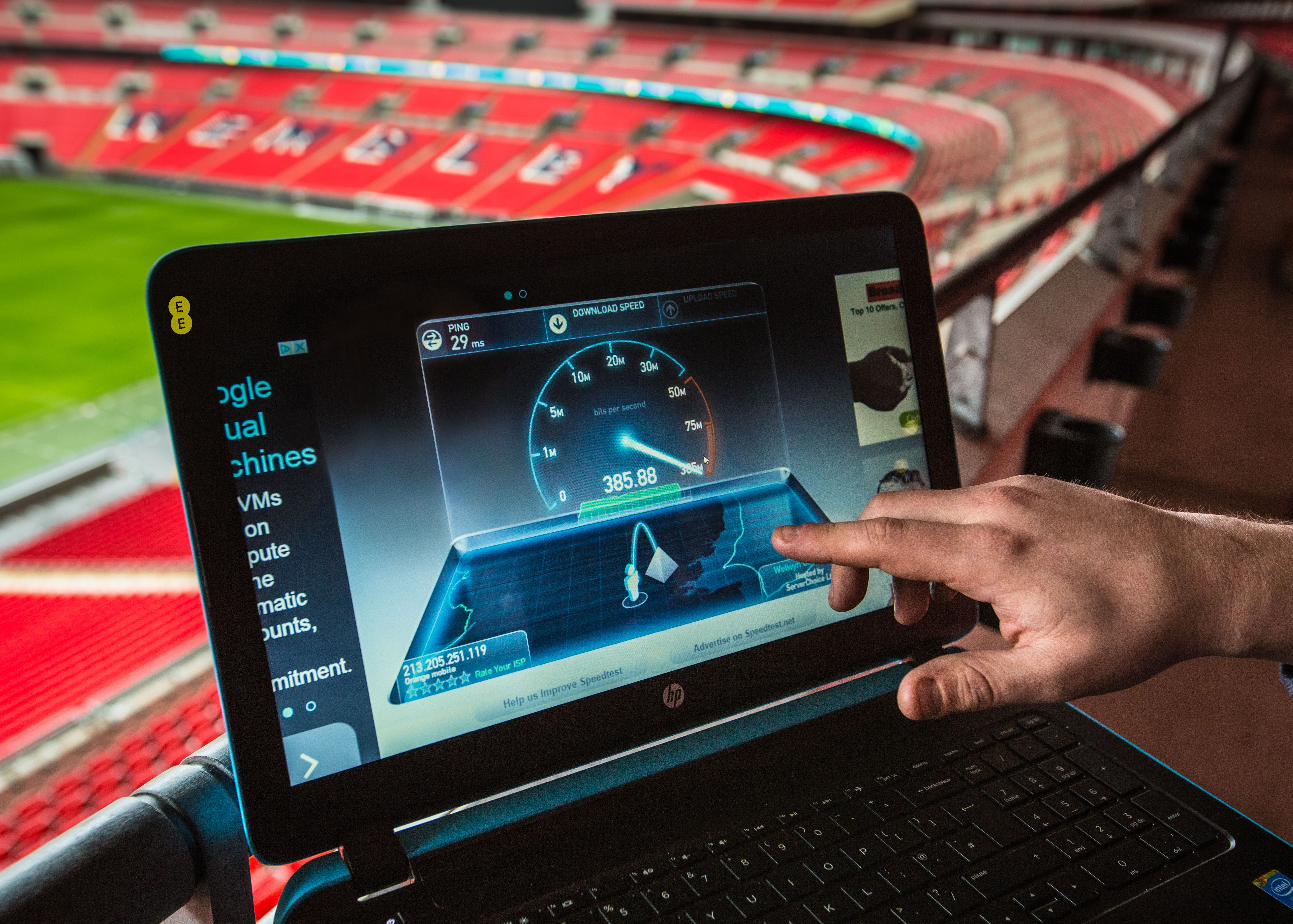 Mohamed Madkour, vice-president of marketing, Huawei Wireless Network Product Line, said:
"We are thrilled to see the innovative technology of LTE-Advanced coming to reality in a place like Wembley Stadium where a speed-hungry application like 4K video streaming is much needed by many simultaneous users,"
"To meet end user expectations, a much higher capacity and a more reliable connection to mobile devices is required."
EE is spending £1.5 billion to make its 4G services available to 99 per cent of the UK population by 2017. It plans on making ultrafast 4G+ available in 20 of the country's biggest cities by that date.
Fotis Karonis, CTO at EE, said:
"We have established ourselves as the most advanced and innovative network in Europe, and we will continue to stay ahead of the curve, in terms of both speed and capacity."
"Smarter devices with more data intensive video and audio demands are launching all the time, and it's trials like these at Wembley Stadium that allow us to ensure EE customers continue to get the very best experiences from their mobile network now and in the future."
"This is a showcase of what a truly amazing 4G network can do, and it is a big step in our ambition to make Wembley Stadium the most connected stadium in the world."
According to a statement by EE:
"From late March, EE will switch on 4G+ at Wembley Stadium. Like the 400Mbps trials, 4G+ uses 'carrier aggregation' network technology, however just two bands of EE's spectrum are combined (20MHz in each of the 1800MHz and 2.6GHz bands) to achieve real world peak speeds of up to 150Mbps.
This means fans in their seats will be able to benefit from double the amount of mobile data capacity as well as the UK's highest mobile speeds, letting them stream goal replays, check sports apps, upload selfies and share the action on social media.
4G+ was launched in central London in October 2014, delivering the UK's fastest mobile speeds. As EE continues to demonstrate how capacity is setting its network apart from other operators across Europe, the 4G+rollout in Wembley Stadium will allow more fans to connect, share and stream simultaneously."