G20 nations diverged in their priorities as emerging markets face a reduction in American dollars flooding into the global economy.
The most developed and the emerging economies struggled to find common ground.
Three divergences are currently being seen worldwide:
An American economy that is starting to gather steam.
A European economy that still has a long way to go.
The expected reduction of the US Federal Reserve's $85bn-a-month stimulus program has triggered a flight of capital from emerging markets, and led to a devaluation of several currencies, including the Indian rupee.
President of Russia, Vladimir Putin, said in St. Petersburg today:
"Our main task is returning the global economy towards steady and balanced growth. This task has unfortunately not been resolved. Systemic risks, the conditions for an acute crisis relapse, persist."
G20 – Meeting on jobs and growth
G20 leaders agreed on a growth and jobs initiative. Maxim Topilin, Russia's Minister of Labor and Social Protection, spoke at a press conference today about the results of the G20 Labor Ministers Meeting and Joint G20 Finance and Labor Ministers Meeting.
Mr. Topilin said "We know very well that labor market regulation, the creation of jobs, financial stability and the pace of economic growth are closely interconnected issues.Hence, they must be addressed as a package, and all countries need to find a balance between them. It is clear that labor market issues cannot be resolved without stimulating the economy, creating jobs and increasing the demand for a labor force."
Topilin added that current job prospects in his country are good. However, Russia needs to implement measures that introduce structural changes in employment – the unemployed need to be retrained and people in existing employment require more help in training for new professions. The quality of professional training in Russia needs to improve, he added.
Topilin said "It is one of the most important issues for the G20 countries and it was actively discussed at the meeting. For example, all countries are taking measures to ensure that members of the business community contribute to improving the quality of training."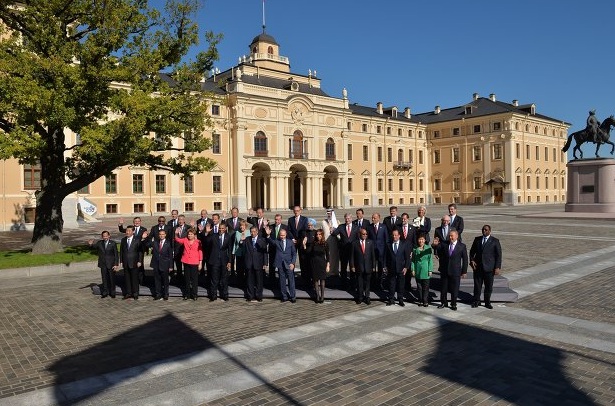 Russia G20 Summit – leaders of Argentina, Australia, Brazil, Canada, China, France, Germany, India, Indonesia, Italy, Japan, Mexico, Russia, S. Arabia, S. Africa, S. Korea, Turkey, UK, and USA.
G20 issues overshadowed by Syria crisis
Media sources in St. Petersburg commented on how the great-power tensions over the Syria crisis overshadowed the main reasons these leaders met – to discuss economic matters and decide on which actions to implement.
The emerging markets, often referred to as the BRIC (Brazil, Russia, India and China) economies, announced they would allocate $100 billion towards a currency reserve pool as a cushion against a balance of payments crisis. However, when the mechanism will be up and running they did not say.
In a joint statement, Brazil, Russia, India, China and South Africa said "The eventual normalization of monetary policies needs to be effectively and carefully calibrated and clearly communicated."
Some experts wonder whether the acronym BRIC depicting the emerging miracle economies might have to change, as the Indian rupee carries on devaluing and Brazil slows down significantly.
Main challenges
The G20 leaders agreed that the main economic challenges they face are:
As the economies of the richest nations recover and grow, there is a greater risk of volatility of capital flow resulting from less money from stimulus programs
Emerging markets – slower growth, volatile capital flows, commodity price volatility, and a tighter financial environment
European financial fragmentation
High public debt
High unemployment, especially among young people
Private investment – too low in too many countries, partly because of domestic legislation, as well as market uncertainties
Weak economic growth
The Daily Telegraph also listed "An incomplete rebalancing of global demand" and "continued uncertainties about fiscal policy deliberations".