There are millions of pounds lying idle in old accounts by millions of energy customers, says Energy UK, which is encouraging people to get their money back.
According to Energy UK, the trade association for the energy industry whose members generate more than 90% of the country's total electricity output, about three million customers are owed money.
It is estimated that each customer is owed approximately £50.
In September, the energy industry launched a website in its effort to help people claim their money. While many customers got their money back through the new website, Energy UK says a sizable proportion are not online, so it has announced other ways to claim:
Telephone: you can call the My Energy Credit helpline on 0370 737 7770.
Post: you can write to Freepost RTHL-ZYBU-KBCC, My Energy Credit, 47 Aylesbury Road, Thame, OX9 3PG.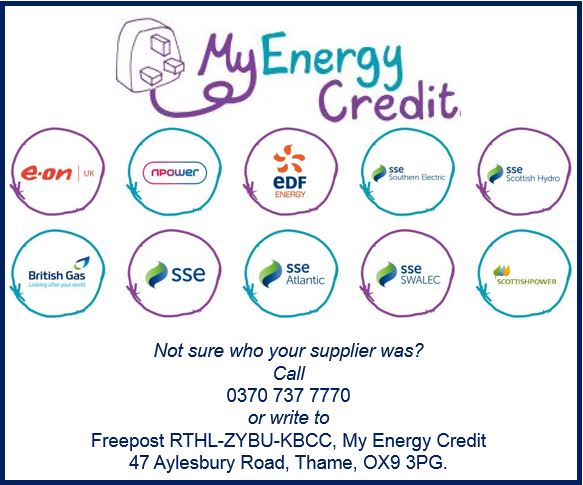 If you are not sure who your supplier was, Energy UK said you can find out by contacting via the address or telephone number listed above.
Incoming CEO of Energy UK, Lawrence Slade, said:
"This campaign spreads awareness and makes it easier for consumers to check whether they are owed money or not."
While welcoming the industry's effort, regulator Ofgem warned that energy companies must not let money accumulate again.
Philip Cullum, an Ofgem consumer partner, said:
"Today's launch of the My Energy Credit campaign is an encouraging step by the six largest energy companies to address Ofgem's call to reunite former customers with their cash. It's good news for consumers and we recommend that you contact My Energy Credit if you believe you may be owed money."
"This issue is part of a wider challenge of delivering good customer service that the industry must crack if it is to rebuild customer trust and confidence. While Ofgem welcomes the progress made to date, suppliers must now do everything within their powers to return the money and prevent a similar situation from happening again. Ofgem will continue to monitor suppliers' progress and keep the need for action under review."