Euro area business growth accelerated in February, 2014, according to the Markit Eurozone Composite Purchasing Managers' Index (PMI), which registered at 53.3, higher than its preliminary estimate of 52.7. Anything over 50 means business growth.
According to Markit, Euro area business growth reached a 32-month high in February. The Eurozone (euro area) has registered eight successive months of economic recovery, its strongest and longest run since the first six months of 2011.
The upturn was mainly led by manufacturers.
Despite a slight slowdown in January, production "rose at a solid clip" in February. Growth in the service sector, however, was more modest by comparison, but even so managed a 32-month record.
Jobless euro area business growth
Markit wrote:
"Eurozne companies benefited from strengthening market conditions, as new business rose for the seventh straight month and at the fastest pace since May 2011. However, this failed to translate into meaningful job creation, with staffing levels only negligibly higher than the previous month (although this was still the best outcome for over two years)."
Eurozone companies report that competitive pressures continue to be a key factor in blocking job creation. Many say they are under pressure to keep headcounts down "to offset price discounting offered to stimulate sales, with average output charges having now fallen continuously since April 2012."
Job losses were reported by Italy, Spain and France. All three countries reported reductions in selling prices.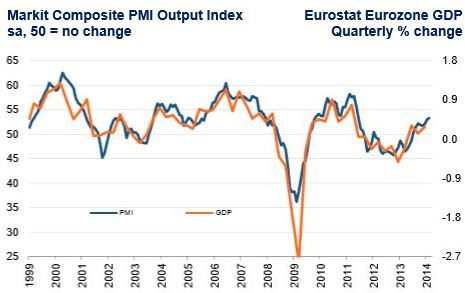 (Source: Markit, Eurostat. GDP = gross domestic product.)
Input prices rose for the ninth successive month. However, inflation dropped to its lowest rate since September 2013.
Below is a list of countries ranked by all-sector output growth for February, 2014:
Germany 56.4, 33-month high.
Italy 53.4, 34-month high.
France 47.9, 2-month low.
Euro area business growth – services
The Eurozone is in its seventh successive month of service sector expansion. New orders and business activity increased at a faster rate "which were the sharpest in the current sequence of recovery, as domestic markets improved in most of the nations covered."
Companies also continued with an optimistic outlook, with business confidence remaining close to January's 30-month peak.
The Eurozone Services Business Activity Index increased to 52.6, a 32.month high, compared to 51.6 in January. All the Eurozone countries registered positive numbers, with Germany and Italy doing exceptionally well.
Over a 12-month period, Ireland recorded the sharpest increase of business activity, "despite seeing its rate of increase ease to the second lowest since last November."
Chief economist at Markit, Chris Williamson, said:
"The final PMI indicates that the eurozone economy grew at the fastest rate since June 2011, contrasting with the slowdown signalled by the flash reading. The survey suggests the region is on course to grow by 0.4 – 0.5% in the first quarter, which would be its best performance for three years."
"Although manufacturing growth slowed slightly, the goods producing sector continued to expand at a reassuringly robust pace in February. However, it was the acceleration in growth of the service sector which provided the principal boost to the PMI, pointing to a welcome upturn in domestic demand within the region as the recovery broadens out beyond manufacturing."
"There was good news on the employment front too. Although only marginal, the increase in headcounts was nevertheless the first improvement seen since 2011 and suggests that companies are gaining confidence about the sustainability of the upturn."
"However, regional divergences remain a concern, with the contrast between the fast growth in
Germany and the decline being endured by France the most striking in the history of the PMI surveyswith the exception of early 2013. Perhaps the best news came from Spain, which is enjoying its best quarter of growth for seven years, and Italy, where the rate of growth hit a near three-year high."
"The upward revision to the February PMI readings, alongside the recent higher than expected inflation numbers, will reinin expectations of further action from the ECB."
Last week economists were split down the middle on whether the European Central Bank's governing council would lower its benchmark main refinancing rate this month. After today's Eurozone PMI data, most predict no cut from the current 0.25%.
Events in Crimea overshadowing Eurozone data
Despite strong data coming from the Eurozone, their impact on markets have been overshadowed by events in the Crimea.
The euro dropped slightly from $1.3742 on Tuesday evening in New York to $1.3734 on Wednesday (10.02 GMT). The benchmark March Bund contract dropped 0.2% today to 144.45.
In Germany, the DAX index traded 0.2% lower on Wednesday after a 2.5% gain on Tuesday, while in France the CAC 40 index was 0.3% lower.
Europe depends on Russia for 30% of its natural gas imports. Placing economic pressure on Russia for its 'invasion' of Ukraine could seriously undermine euro area business growth.
Eurozone business activity up