The euro area economic climate brightened slightly this quarter, although forecasts still look rather gloomy according to the Ifo Indicator – a well-regarded index that is followed by investors.
The latest results of the Ifo World Economic Survey (WES) show that the Ifo Indicator for the euro area's economic climate continued to rise in the 4th quarter of 2013, climbing above its long-term average for the first time since the close of 2011.
The term 'economic climate,' in this article, refers to the overall state of the economy, i.e., economic conditions.
The WES 4th quarter results are based on the responses of 285 economic experts and the results of a quarterly World Economic Survey (WES) of businesses conducted by the Ifo Institute in Munich, Germany in cooperation with the International Chamber of Commerce (ICC) in Paris.
Euro economic clmate better, but…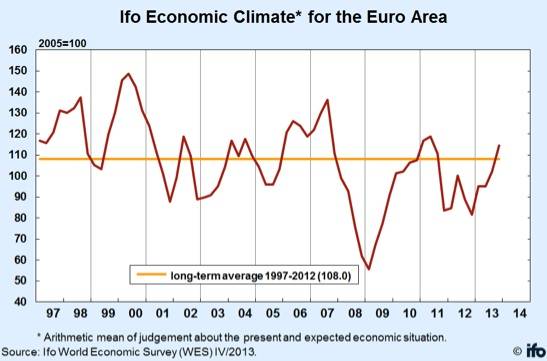 The euro economic climate improves.
The 4th quarter results show that while the economic climate in the euro area brightened slightly, assessments remain unfavourable, as public budget deficits, high unemployment and weak demand continue to prevail in several countries.
On the other hand, the economic outlook for the next six months looks much better than it did three months ago, with expectations being at their highest in nearly three years, mostly due to reports from Germany, the largest economy in the euro area.
The latest WES report also shows that the economic North South divide in the euro area has widened.
The report highlights expert assessments of economic situations in different countries:
Compared with last quarter, the economic situation in Cyprus, Greece, Italy, Portugal and Spain, has hardly changed, and remains at crisis point.
In Ireland, Slovenia and The Netherlands it has worsened somewhat.
Although the economic situation in Belgium, Finland and France looks a little brighter this quarter compared to last quarter, it is still weak.
In Austria, the economic situation is assessed as below "satisfactory".
Germany and Estonia were the only countries that experts assessed as having a "satisfactory" to "good" economic situation.
The survey also assesses expectations for the next six months, and these have continued to improve for all countries, except for Belgium and Luxembourg. And for Cyprus, whilst expectations continue to improve, they are still negative.
Medium-term confidence has improved
Also, compared to the same period last year, there is more confidence in the mid-term economic perspectives in the euro area for the next 3-5 years.
The WES experts expect inflation in the euro area 2013 will remain at last quarter's 1.7% per annum.
Although the experts think short-term interest rates will remain largely unchanged in the next six months, a greater number of the businesses surveyed said they expect them to rise in the longer term.
Most of the experts say the US dollar should appreciate against the euro over the next months, maintaining that it is overvalued against the dollar and the Japanese yen.