Eurozone economic sentiment in November rose to 98.5 points, an increase of 0.8, which surprised most economists.
Eurozone economic sentiment reached its highest reading in November since August 2011.
A Bloomberg Survey of 31 economists had predicted an increase of 0.3.
The Economic Sentiment Indicator reported the following results for November:
Eurozone  98.5 (+0.8)
The EU (European Union) 102.1 (+0.4)
The Eurozone includes EU countries that use the euro as their currency, while the EU includes all the European Union countries, including those that have held onto their national currencies. (see bottom of page for more details).
In a communiqué, the European Commission wrote:
"While the upward trend observed since May has been preserved, the improvement in confidence has noticeably decelerated over the past two months, mirroring differences in developments across sectors."
Economic sentiment in the EU and Euro Area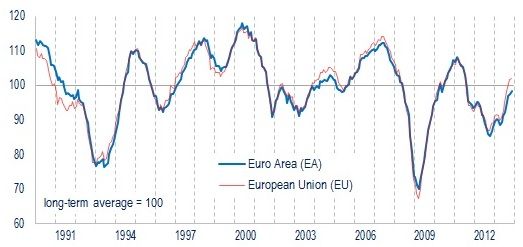 Industrial sentiment, a sub-index of the Eurozone Economic Sentiment, improved from (minus) -5 in October to (minus) -3.9 in November, the European Commission reported, its highest level in over two years.
While consumer sentiment weakened, the retail and services sectors saw gains.
Eurozone economic sentiment trend not reflected in France
While improving Eurozone Economic Sentiment was reflected in most countries, it is deteriorating in France. The list below shows how sentiment changed in November in the euro area's five largest economies:
Italy +0.9
Spain +1.4
The Netherlands +1.3
Germany +0.8
France (minus) -0.9
Earlier this month France's credit rating was reduced to AA from AA+ by S&P (Standard and Poor's). Two years ago the country had the top AAA rating.
According to Standard and Poor's, taxation reforms introduced by the French government as well as reforms to its labor markets will not make much of a difference to the country's medium-term GDP growth prospects.
S&P added that poor economic growth is hampering the government's ability to improve public finances.
What's the difference between the EU and the Eurozone?
The Eurozone or Euro Area refer to the countries that abandoned their national currencies and adopted the euro.
Eurozone countries include: Austria, Belgium, Cyprus, Estonia, Finland, France, Germany, Greece, Ireland, Italy, Luxembourg, Malta, the Netherlands, Portugal, Slovakia, Slovenia, and Spain.
The EU (European Union) includes the following countries (in brackets when they joined the EU): Austria (1995), Belgium (1952), Bulgaria (2007), Croatia (2013), Cyprus (2004), Czech Republic (2004), Denmark (1973), Estonia (2004), Finland (1995), France (1952), Germany (1952), Greece (1981), Hungary (2004), Ireland (1973), Italy (1952), Latvia (2004), Lithuania (2004), Luxembourg (1952), Malta (2004), Netherlands (1952), Poland (2004), Portugal (1986), Romania (2007), Slovakia (2004), Slovenia (2004), Spain (1986), Sweden (1995), and the United Kingdom (1973).
All Eurozone countries are members of the EU, but not all EU member states are Eurozone countries.
The following EU member states are not in the Eurozone: Bulgaria, Czech Republic, Denmark, Croatia, Lithuania, Hungary, Poland, Romania, Sweden and the United Kingdom. Some countries have not jointed because they do not want to (UK, Sweden and Denmark) while others need to wait until their economies are ready.