London's Southward Crown Court sentenced former JJB Sports CEO Christopher Ronnie to 4 years in prison for illegally acquiring £1 million in what the judge described as a "very greedy fraud."
Mr. Ronnie was found guilty in November over three large cash payments from JJB suppliers while he was boss in 2007 and 2008.
Judge Nicholas Loraine-Smith said:
"This was a flagrant and disgraceful breach of your duty as a CEO of a public limited company."
Mr. Ronnie had a debt of £11 million with Icelandic bank Kaupthing Singer Friedlander when he accepted loans from suppliers. He used some of that money to purchase a property in Florida.
When the troubled bank tried to recover the debt, Mr. Ronnie deceived it regarding his assets and liabilities, the court heard.
In February 2008, he received £650,000 from Performance Brands, $380,000 (£197,000) from Fashion and Sports in June 2008, and $250,000 (£134,000) from Fashion and Sports again later in 2008.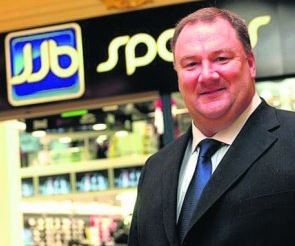 Christopher Ronnie was CEO of JJB Sports from June 2007 to March 2009.
Judge Loraine-Smith added:
"Within months you were grossly abusing that position by embarking upon a course of conduct which was dishonest in the extreme. Over a period of nine months they gave you just under £1million."
"You hid the fact they had paid you those sums because you wanted to keep your position as CEO and keep the money, and spend it as you did, mainly on the house. You had to disguise the real reason for the receipt of that money, you went to great lengths to do so.
Mr. Ronnie tried to repel the allegations by telling the police he was the victim of a witch hunt, the judge said.
Judge Loraine-Smith, who said he could not see any evidence of remorse or embarrassment over what he had done, described Mr. Ronnie's actions as "a flagrant and disgraceful breach of your duty as a CEO of a public limited company," during a very vulnerable period leading up to JJB Sports' collapse.
Two people who worked for the companies that made the loans – David Barrington and David Ball – were each sentence to 18 months in prison for helping him conceal evidence of his illegal activities.
According to Prosecutor Miranda Moore QC, the trio nearly got away with it. Their deeds only came to light after an engineer they had asked to erase emails became concerned and contacted the Serious Fraud Office.
Mr. Ronnie was convicted of three counts of fraud and two of giving false information.
On September 24, 2012, JJB Sports shares were suspended and the company called in the administrators. In October 1, 2013, Sports Direct bought the JJB brand, name, website and 20 stores, saving 550 jobs (the company had 5,000 employees). The other 130 stores closed down.