Singapore is the most expensive city in the world for living in, says the Economist Intelligence Unit after assessing 131 cities across the globe.
People living in Singapore face rapidly rising utility bills and extremely high costs of running an automobile.
Singaporean residents end up paying twice as much as a vehicle's market value after taking into account registration and excise duties.
Tokyo, which was the most expensive city in the world in 2013, has moved down to ninth position after the Japanese yen slid in value.
Singapore, which has leapt five spots over the last year, also has the priciest clothes in the world and a rising currency. Its transport costs are three times as high those of New York city. The Singapore dollar has risen by more than 35% over the last ten years, with inflation averaging 2.8% over the same period.
The Economist Intelligence Unit (EIU) uses New York city as a base price and assesses costs for over 400 individual items.
Singapore car prices astronomical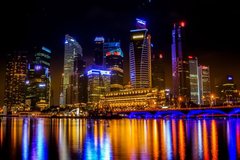 Bloomberg quoted Michael Wan, an Economist at Credit Suisse Group in Singapore, who said "Compared to other countries, car prices are at an astronomical level. The labor market is tight and moving forward, we think inflation will be much more of a concern over the next two years."
With the exception of Caracas, Venezuela, the most expensive cities in the world are dominated by Asian, European and Australasian conurbations.
According to the EIU report, the ten most expensive cities in the world are (in order):
India has cheapest cities
The EIU listed Mumbai, India, as the cheapest city in the world to live in, and India's capital, New Delhi as the third cheapest. Damascus, Syria, is the fourth cheapest city.
Regarding India, the EIU wrote:
"Although India has been tipped for future growth, much of this is driven by its large population and the untapped potential within the economy. Income inequality means that low wages proliferate, driving down household spending and creating many tiers of pricing that keep per capita spending low."
"This, combined with a cheap and plentiful supply of goods into cities, as well as government subsidies on some products, has kept prices down, especially by Western standards."
The cheapest cities in the world are:
Asian cities differ from European ones
Among the Asian cities in the list, grocery prices are particularly high. Tokyo remains the most expensive city in the world for everyday foods.
European cities, unlike the Asian ones, do not have specific categories or items that drive the cost of living up. They are more expensive because of a wide range of items, which together result in higher living costs.
For example, Paris, which has moved six places up in the expensive cities league to number two spot, has no single expenditure category pushing up living costs disproportionately, but it is more expensive in seven out of ten categories included in the EIU survey.
Video – Singapore, the most expensive city to live in