The Federal Aviation Administration (FAA) has given Amazon the green light to test delivery drones.
On Thursday the agency issued Amazon an "experimental airworthiness certificate".
This is huge news for Amazon, as the FAA has been very strict about commercial drone operations.
The company was having to test its drones delivery program, Amazon Prime Air, in countries such as India and the UK.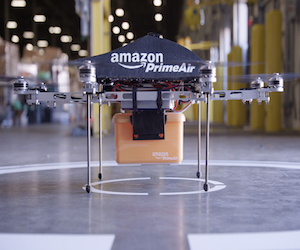 Amazon's frustration with the FAA
Last month the agency proposed rules that began a process that could take as long as two years to finalize.
At the time Paul Misener, Amazon's vice president for global public policy, said:
"The FAA needs to begin and expeditiously complete the formal process to address the needs of our business, and ultimately our customers,"
"We are committed to realizing our vision for Prime Air and are prepared to deploy where we have the regulatory support we need."
The "experimental airworthiness certificate" is huge news for Amazon Prime Air development
However, testing in the US is now a reality for Amazon.
The tech giant can now experiment with some of its drones "for research and development and crew training."
The agency gave permission for the company to remotely control unmanned aerial vehicles at altitudes lower than 400 feet during daylight hours.
The drone operators must hold at least a private pilot's certificate as well as medical certification.
Amazon Prime Air, the drone delivery service currently in development, plans on delivering small packages to customers via unnamed aerial vehicles.
Amazon believes the service would be faster than other delivery methods, as well as cut costs.
The FAA is also asking Amazon to provide monthly data about the number of flights conducted, pilot duty time per flight, document any unusual hardware or software malfunctions, report deviations from air traffic controllers' instructions as well as any unintended loss of communication links.