Facebook has expanded its "like" button range to include six new "Reactions", allowing users to not only "like" a post but also have the option to express anger, love, laughter, or excitement.
The social media giant rolled out five new buttons which appear as emoticons when the "Like" button is hovered over (on desktops) or held down (on mobile devices).
Facebook began testing the new "Reactions" in Ireland and Spain in October last year and after positive feedback it's now available worldwide.
The company has been looking for ways to add more ways to express emotions towards a post since the "like" button launched in 2009. In September Facebook CEO Mark Zuckerberg said that the company was considering adding a "dislike" button, however, this sparked a debate over whether it would fuel negativity on the website and increase cyber bullying.
"We've been listening to people and know that there should be more ways to easily and quickly express how something you see in News Feed makes you feel," said Facebook Product Manager Sammi Krug.
There are now six different reactions. Their official names are "Like, Love, Haha, Wow, Sad and Angry".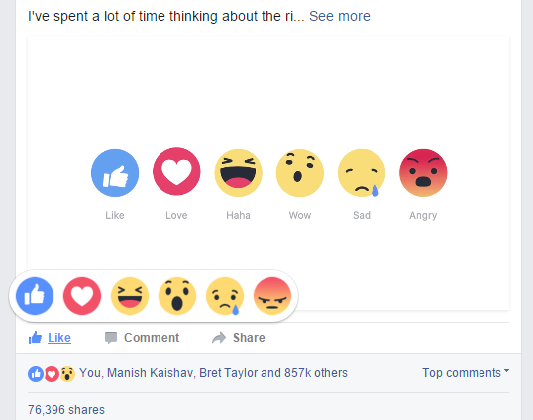 The new "Reactions" are now available for everybody to use on Facebook.
Mark Zuckerberg posted the following on his Facebook page:
"Today is our worldwide launch of Reactions — the new Like button with more ways to express yourself.
"Not every moment you want to share is happy. Sometimes you want to share something sad or frustrating. Our community has been asking for a dislike button for years, but not because people want to tell friends they don't like their posts. People wanted to express empathy and make it comfortable to share a wider range of emotions.
"I've spent a lot of time thinking about the right way to do this with our team. One of my goals was to make it as simple as pressing and holding the Like button.
"The result is Reactions, which allow you to express love, laughter, surprise, sadness or anger.
"Love is the most popular reaction so far, which feels about right to me!"