Facebook launched its new standalone news app called Notify today.
The app provides users with news updates, weather alerts, and other important information.
Notify represents Facebook's first significant move in the news app market, positioning itself against the likes of Google News, Twitter, Flipboard, News360, and Apple News.
"Notifications are becoming one of the primary ways people first learn about things wherever they are," said Julian Gutman, a Facebook product manager. "Everyone has different interests, so whether you're into sports, celebrities, news, movies, music or shopping, Notify makes it easy to find notifications you're into with a broad selection of great 'stations' across a variety of categories."
---
---
Facebook has partnered with various news outlets, including CNN, Vogue, Bloomberg, The Weather Channel, and Fox.
Users can create their own personal mix of notifications they want to receive on the app. When a user receives a notification on Notify they can simply ignore it, tap on it to open the link in the app's browser, or swipe the notification to save or share it.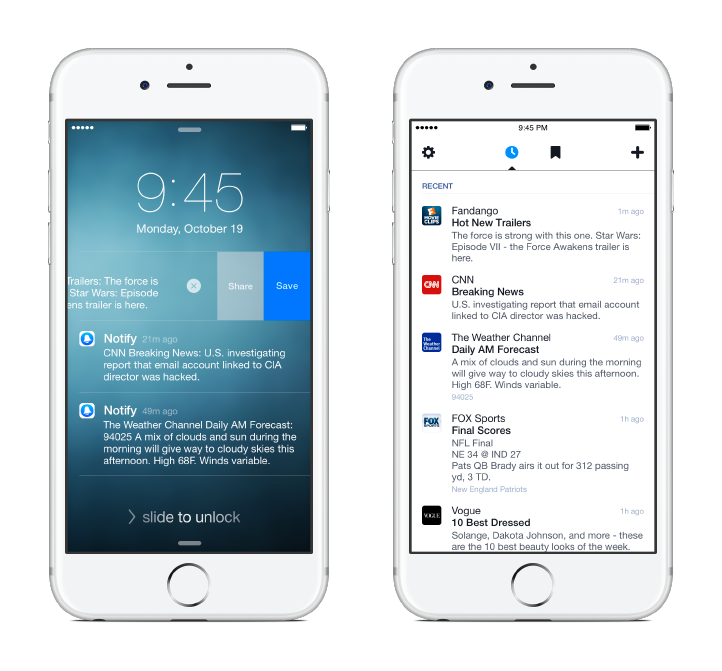 The official Facebook blog post introducing Notify said: "It's easy to share your favorite notifications with friends via text, email, Facebook or other social networks, right from your lock screen. If a notification catches your eye when you're busy or distracted, just swipe to add it to your Saved Notifications list. You can discover all the notifications you've received from Notify in the last 24 hours via a convenient in-app feed so you can easily stay up to date."
Ezra Gottheil, an analyst with Technology Business Research, was quoted by Computerworld as saying:
"Notifications are important, and it makes sense for someone, in this case Facebook, to try to centralize them and give users a way to manage them,"
He added:
"First, this is an important category of app, and Facebook is an early entrant, so with this, Facebook keeps people using Facebook apps," he said. "Second, some of the notifications are based on the main Facebook app, and probably on other Facebook apps, so they bring the eyeballs back to other Facebook apps, as well."
Notify is currently available for iPhone users in the US. An Android version is expected to be coming soon.