Facebook is entering the mobile video calling market in a big way. The company announced that Facebook Messenger will feature video chat, allowing users to have face-to-face conversations with friends and family.
The service will work on both Apple and Android devices.
Facebook believes that its Messenger video chat will have a competitive edge because it will allow users to spontaneously switch from texting to video.
Facebook said:
"You can quickly start a video call from any conversation with just one tap. If you're messaging with someone and realize that words just aren't enough, you can simply choose the video icon in the top right corner of the screen and start a video call right from within an existing Messenger conversation."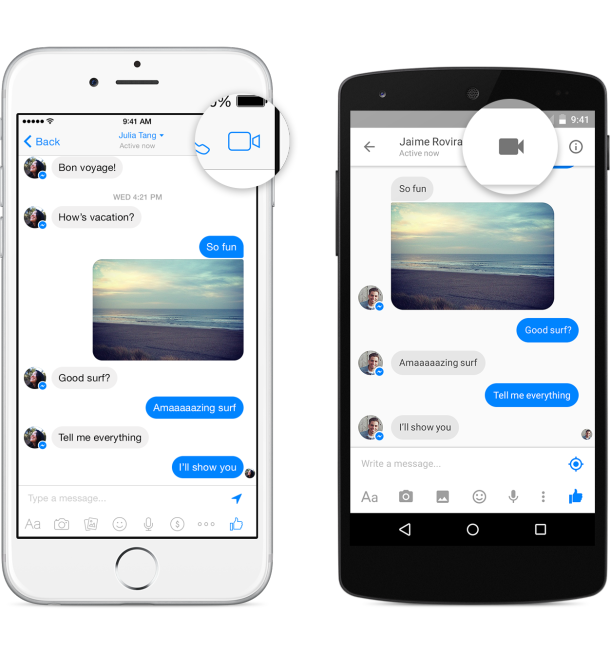 "Video calling in Messenger is available for calls made from a mobile phone to another mobile phone, even if one person is on iOS and the other person is on an Android device."
Over 600 million people use Facebook Messenger every month and the new video calling feature could help bump those numbers up.
According to the company, "video calling in Messenger is launching today for people on iOS and Android in Belgium, Canada, Croatia, Denmark, France, Greece, Ireland, Laos, Lithuania, Mexico, Nigeria, Norway, Oman, Poland, Portugal, the UK, the US and Uruguay."
The tech giant said that it will be rolling out the feature to other regions and locales over the coming months.
It is important to note that Facebook is no longer just a social networking platform where users upload photos and comment on status updates.
The company's mission is "to give people the power to share and make the world more open and connected."
Facebook is at the forefront of exploring and implementing new ways people for people stay connected.
Last year Facebook shelled out $19 billion to acquire the text messaging service WhatsApp, which has over 800 million active users.
This new video-calling feature, which will compete with the services such as Skype, is part of the firm's effort to provide more ways for users to communicate with each other.