Facebook revenues increased 72% to $2.5 billion in Q1 2014 due to a surge in mobile ads, the company reported today, easily beating analysts' forecasts. Mobile screen ads now make up 59% of Facebook's advertising revenue compared to 30% twelve months ago.
Facebook recorded a $642 million profit for Q1 2014, triple what it recorded in Q1 2013. Both profit and revenue figures exceeded analyst expectations, sending shares up by more than 4% in early pre-market trading today.
After five years with the company, David Ebersman, chief finance officer will be stepping down. Ebersman said he wants to return to the healthcare sector when he leaves Facebook in September.
Ebersman said:
"This has been a tough decision because Facebook is such a great company and has such a bright future ahead, but I've decided to move back into healthcare where I spent my career before Facebook. It's been a privilege working at Facebook and being part of such a great team."
David Wehner, the current vice-president for corporate finance and business planning, will take Ebersman's place when he leaves. Before joining Facebook in November 2012, Wehner had worked at games company Zynga as chief financial officer.
A great first quarter start
Facebook founder and CEO Mark Zuckerberg, said:
"Facebook's business is strong and growing, and this quarter was a great start to 2014. We've made some long term bets on the future while staying focused on executing and improving our core products and business. We're in great position to continue making progress towards our mission."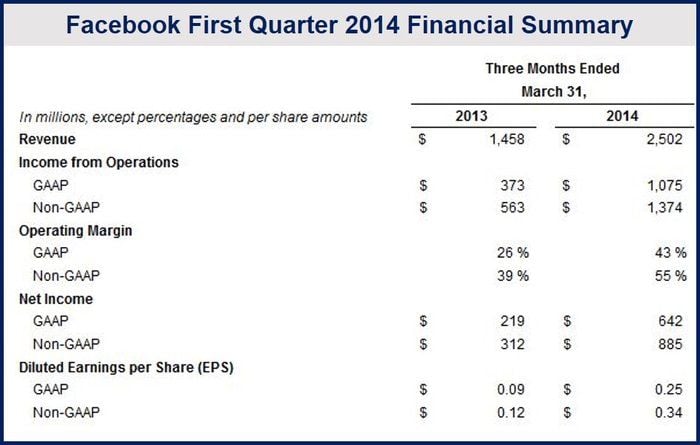 (Source: Facebook)
Facebook reported the following operational highlights for Q1 2014:
Daily active users reached 802 million. 21% more than in March 2013.
Mobile daily active users were 609 million on average in March 2014, forty-three percent more than in March 2013.
Monthly active users were 1.28 billion at the end of March 2014, fifteen percent higher than at the end of March 2013.
There were 1.01 billion monthly active mobile users at the end of March, thirty-four percent higher than in March last year.
Facebook Q1 2014 revenue increase driven by mobile ads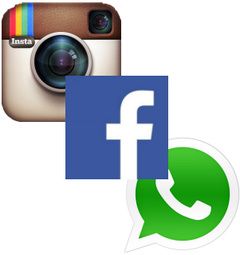 Facebook took steps to expand its mobile business, which a few years ago hardly generated any advertising income at all. It introduced the Facebook Messenger service and Paper, a new application.
It also acquired Instagram, the photo-sharing application in 2012. Facebook recently agreed to acquire WhatsApp, the mobile text-messaging service, for $19 billion. WhatsApp has nearly 500 million users, 70% of whom are active on any given day.
In an interview with Maria Bartiromo on Fox News' "Opening Bell", Facebook's COO Sheryl Sandberg said "WhatsApp could hit a billion users. We're looking at a consumer product that's hugely important in messaging and mobile."
Experts predict rapidly growing mobile screen ad revenue, as people continue switching Facebook access from their laptop and computer screens to smartphones and other portable devices.
In an interview with the Wall Street Journal, Raymond James, an Aaron Kessler analyst, said "Advertisers who have used Facebook have seen good performance. (Advertisers have probably) expanded their budgets and started spending early in the year."
According to PCMag, Facebook makes on average approximately $2 for every user, divided into $1.81 from ad income and $0.19 from any kind of Facebook-related payments. During the previous quarter the company made $2.14 from each user.
American and Canadian users contribute more per user to the company's revenues than those in other parts of the world.
Video – Facebook Q1 2014 revenue beats forecasts
Written by [google_authorship]