Gardena, California-based electric-vehicle startup, Faraday Future, unveiled its first production car concept, the FF 91, at the 2017 Consumer Electronics Show (CES).
The crossover SUV has a 130 kilowatt-hours of battery energy which Faraday Future claims delivers more than 378 miles of range. Th car is fast too, packing 1,050 horsepower allowing it to reach 60 mph in a matter of only 2.39 seconds – 0.01 seconds faster than the Tesla's Model S P100D.
The company claims that the FF 91 also has the fastest charge speed currently available, with the ability to charge at more than 500 miles per hour. The home charger, which comes with the vehicle, achieves 50 percent to full charge in under 4.5 hours at 240V.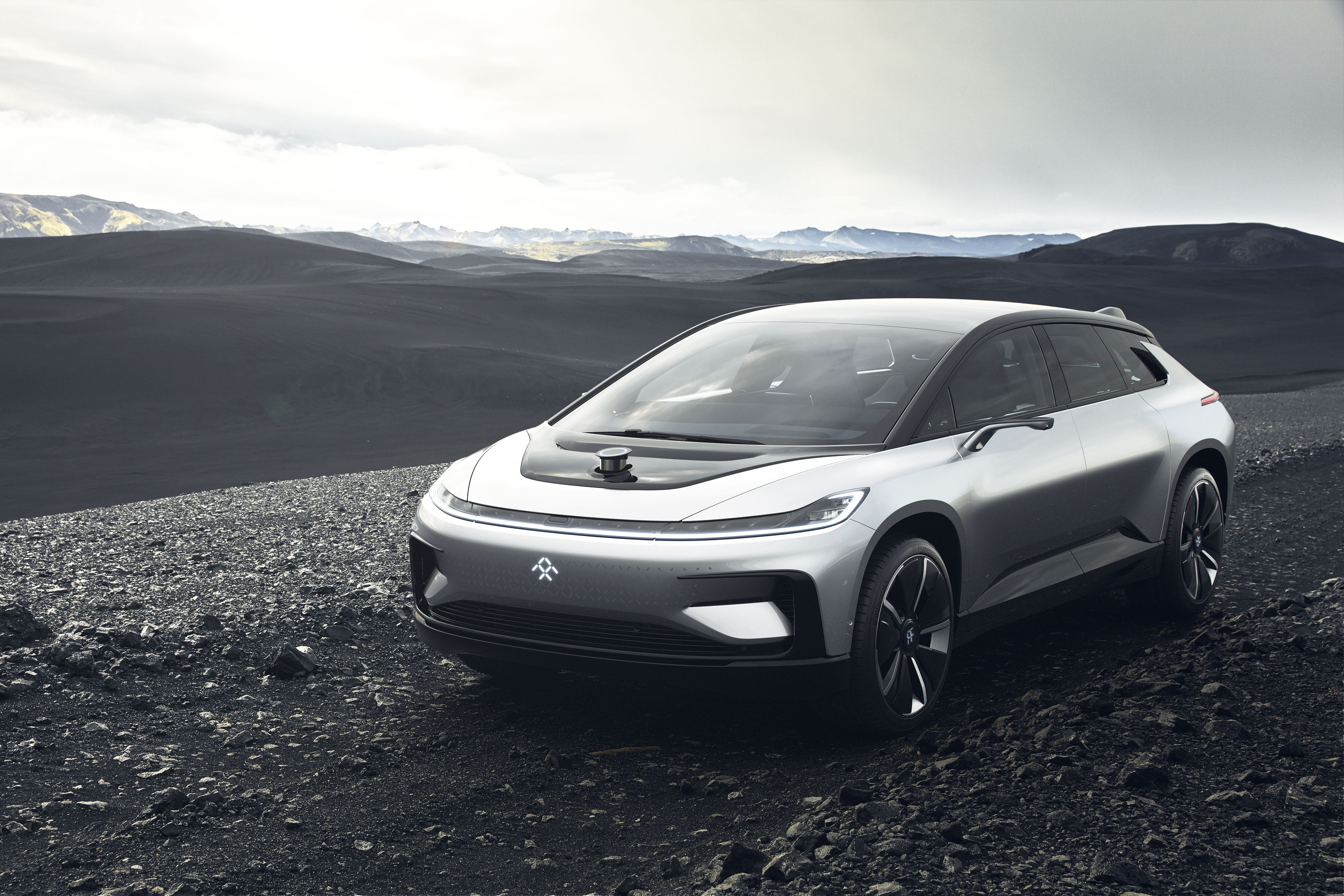 Faraday Future said in a press release the car represents "a bold new breed of electric mobility that combines supercar performance, precise handling, the comfort of an ultra-luxury passenger vehicle, and a unique collection of intelligent internet features."
The company did not reveal the price of the FF91, but said that it has already started accepting reservations for a deposit of $5,000.
---
---
The unveiling of the FF 91 follows a turbulent year for Faraday Future and it is still too early to tell whether the company will make it in the new, growing and volatile electric vehicle market.
It's not secret that the Chinese-backed company has had its fair share of financial troubles. Several of its most important staffers decided to jump ship and leave the company last year, including the president of product marketing and growth and the global chief brand and commercial officer.
In November, the company stopped work on its $1 billion factory in North Las Vegas, Nevada, after falling behind on payments to AECOM, the contractor overseeing the project.
Nevada State Treasurer Dan Schwartz even went as far to call Faraday's plans "a Ponzi scheme." Dan Schwartz said in an interview: "You have a new company that has never built a car, building a new plant in the middle of the desert, financed by a mysterious Chinese billionaire. At some point, as with Bernie Madoff, the game ends."
The Chinese conglomerate backing Faraday Future, LeEco, told Reuters in a letter late last year that the firm was facing "big company disease" after having expanded at an "unprecedented rate."
Jia Yueting, founder and CEO of LeEco, said in the letter: "We are starting to see signs of big company disease, such as low individual performance and organizational redundancies,"
Adding:  "In order to realize the rapid and positive growth of the Eco operation, we will cut costs to reinforce the awareness of capital control and efficient operation."
But Faraday appears to be set on production.
According to PCWorld, Nick Sampson, senior vice president of R&D and engineering, said towards the end of the CES event: "Despite all the naysayers and skeptics, we will persist. We will carry on."
Interesting related article: "Ford announces investment to accelerate electric car production."