Federally funded research fuels American innovation and contributes significantly to economic growth, a new report by The Science Coalition informs.
Sequestration is seriously undermining this valuable contribution to the nation's economy, the authors add.
The authors say their report – Sparking Economic Growth 2.0 – "illustrates one of the many returns on investment of federally funded scientific research: the creation of new companies."
The study includes a database of 100 companies that started off with federally funded research at universities. It shows how these companies brought transformational innovations to market, created employment and contributed to America's economic growth.
The free open-access database includes data on the company profiles; you can sort companies according to their federal funding agency, which universities were affiliated, type of innovation, and a range of other criteria.
Federally funded research leads to economic growth and more employment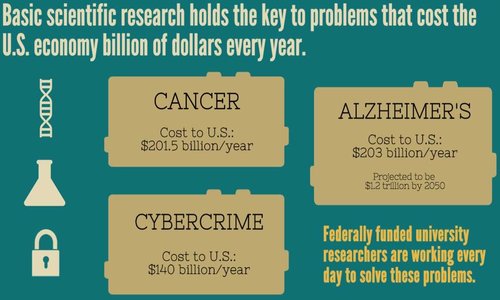 Federally funded research in jeopardy
The main component that can lead to the creation of these companies – basic scientific research – is in jeopardy, the report emphasizes. Funding levels for this year are at historic lows; they have been progressively falling for the last ten years.
Federal research & development budgets will probably lose an additional $95 billion by 2021, because of Sequestration which started in March of this year.
This disinvestment on a national scale will have serious consequences on scientific research and development and ultimately the economy. As the database shows, for research and transformative discoveries to yield results they need years of sustained funding.
Federally funded research – a cornerstone of American progress

University of Wisconsin-Madison Chancellor Rebecca Blank, an economist and former Acting Secretary of the U.S. Department of Commerce, said:
"Innovation is a cornerstone of American progress, improving our lives in countless ways and providing jobs and economic growth. For decades, innovation has been fueled by federally funded research that is conducted at universities across our nation. America's future economic prosperity depends on increased investments in research and education that will accelerate innovation and inspire future generations of scientists."
Approximately $330 million were invested in fundamental university research that led to the discovery or core technology behind those 100 companies, says the report. In many cases funding was awarded over a period of several years.
$330 million is a relatively minor sum when compared to cancer, for example, which costs the American economy over $552 million each day (or cybercrime at $383.6 million per day). Researchers in federally funded projects are currently working to solve these and a range of other problems that affect our safety, health and economy.
Science Coalition President Tim Leshan, said:
"This report demonstrates the power of the federal investment in basic scientific research. While research is only a small portion of the overall federal budget, the results are huge: discoveries with profound implications for our health, safety and quality of life; training for future generations of scientists, doctors and teachers; and innovations that give birth to new technologies, companies and industries.
If America wants to maintain its innovative edge, create meaningful jobs and realize economic growth, then we must ensure that funding for scientific research is prioritized, even in times of cost-cutting."
The Sparking Economic Growth 2.0 includes the following highlighted data:
How both university R&D as well as companies that originated from such research have contributed to much of the innovation in America today.
The impact research universities have on the local economy, including through spin-out companies that set up near to their founding universities. These, together with the universities form regional innovation hubs and create employment.
How and why university research-based companies are so unique.
The success rate of these companies, especially the younger ones. Eight in every ten of those companies are still currently operational.