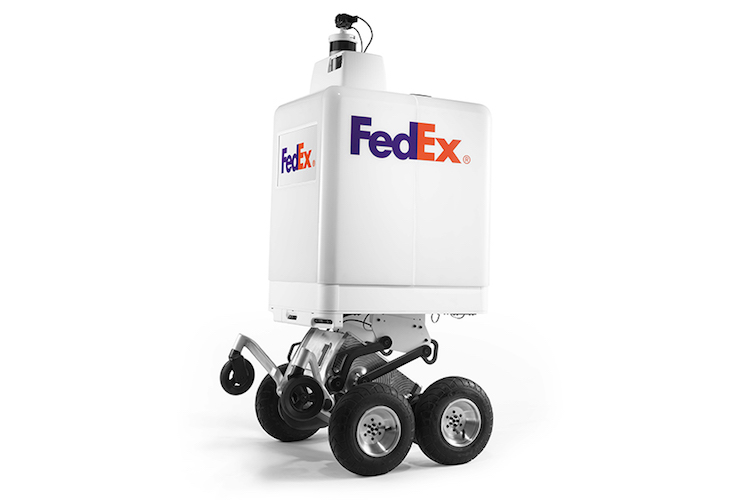 FedEx has teamed up with DEKA Development & Research to develop an autonomous delivery robot.
The sub-200-pound battery-powered 'FedEx SameDay Bot' is an autonomous delivery service designed to help retailers make "same-day and last-mile deliveries" to customers.
The robot is equipped with cameras and software that allows it to detect and avoid obstacles as it travels on sidewalks and along roadsides.
FedEx said in a statement that it plans on testing the technology this summer to courier packages between the company's offices in its Memphis headquarters, pending final city approvals.
"We couldn't be more excited that FedEx chose its hometown as one of the pilot cities for this revolutionary innovation," Mayor Jim Strickland, City of Memphis, said. "We look forward to working with FedEx to continue introducing technologies that will help improve the quality of life in our community."
The delivery company is working with a number of companies ranging from AutoZone, Lowe's, Pizza Hut, Target, Walgreens and Walmart to see if autonomous robot delivery would be a viable option for them. All of these companies likely require same day delivery services, but it is unclear whether this is the best way to approach it.
According to FedEx, over 60 percent of merchants' customers live within just three miles of a store location, "demonstrating the opportunity for on-demand, hyper-local delivery."
"The FedEx SameDay Bot is an innovation designed to change the face of local delivery and help retailers efficiently address their customers' rising expectations," said Brie Carere, executive vice president and chief marketing and communications officer for FedEx. "The bot represents a milestone in our ongoing mission to solve the complexities and expense of same-day, last-mile delivery for the growing e-commerce market in a manner that is safe and environmentally friendly."
The robots, which have a top speed of 10 mph, look like a little like coolers on wheels.
FedEx showed off the robot on the Tonight Show with Jimmy Fallon where it drove over a number of surfaces.
Jimmy meets some exciting new robots and makes a big reveal from our partner @FedEx! #FallonTonight pic.twitter.com/PbglEgPV9J

— Fallon Tonight (@FallonTonight) February 27, 2019
"We are thrilled to be working with the talented teams at FedEx and DEKA on this revolutionary innovation," said Bill Rhodes, Chairman, President and CEO, Customer Satisfaction, AutoZone. "When we saw the FedEx SameDay Bot in action, it confirmed to our team the many ways it can help us improve our service by offering reliable, highly efficient deliveries to our customers."
"The convenience and capability of the FedEx Same Day Bot has the potential to greatly simplify and speed distribution for the full range of our customers. Consider pros who could save time and money by never leaving the job site for the critical tools and supplies they need from Lowe's," said Don Frieson, Lowe's Executive Vice President, Supply Chain. "We look forward to exploring all the possibilities to enhance the service we provide our customers through this innovation."
Companies investing heavily in new delivery technologies
Last month, e-commerce giant Amazon announced the launch of a new self-driving, fully-electric delivery system called Scout. The small robot devices, created by Amazon, look similar to the FedEx SameDay Bot and were designed to roll along sidewalks at a walking pace to deliver packages.