What is business travel? Definition and examples
If you fly somewhere on behalf of your company, you are one of the millions of people involved in business travel each year worldwide. The term business travel refers traveling for work purposes. We call each individual journey a business trip. If you drive across town to visit a client, that is not business travel. Business trips are longer.

If I say: "John is on a business trip," we imagine that he will be away for more than one day.
Wikipedia.org has the following definition of the term:
"Business travel is travel undertaken for work or business purposes, as opposed to other types of travel, such as for leisure purposes or regularly commuting between one's home and workplace."
Why go on a business trip?
There are literally dozens of reasons for business travel. Even if your employer is not a commercial entity, your trips may still be classed as business ones.
What about military personnel who specialize in purchasing defense equipment, missiles, vehicles, and airplanes who are flying to a military air show? Is this an example of business travel? Yes, it is.
So, rather than saying that business travel relates to journeys that are business related, we should say that they are work related.
Below is a list of types of trips people can make for work purposes:
Attending a conference, convention, or trade show.
Considering, examining, inspecting, or assessing new markets.
Evaluating a project site.
Going for a job interview far away (especially if your are an executive or specialized professional).
Installing equipment for a customer.
Meeting with colleagues (from the same company) at a faraway location.
Motivating your staff to boost employee loyalty.
Negotiating with suppliers.
Networking.
Promoting a product or service.
Seeing a demonstration of something you may buy.
Visiting customers.
Meeting prospects (contacts who could turn into a customers).
Apologizing to somebody.
Business travel and COVID-19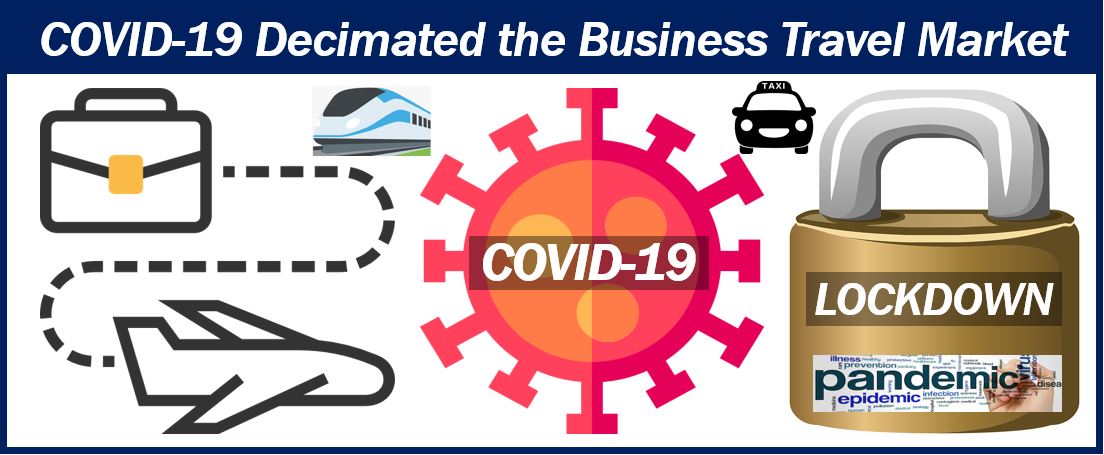 The market for business travel globally is huge. The World Health Organization says that approximately thirty percent of international trips are business-related. Until the conovirus pandemic hit at the beginning of 2020, the market had been forecast to expand rapidly over the next decade.
However, COVID-19 changed all that. The year 2020 saw a dramatic decline in all types of travel, including by air, ship, and land. Business traveler numbers are no exception. As businesses embrace modern telecommunication tools to communicate with employees, clients, suppliers, and other stakeholders, a new trend has evolved – the trend of replacing business travel with online meetings and events.
In August 2020, in the middle of the coronavirus pandemic, Alexander Joe wrote the following in an article we published:
"Business travel has been hit hard during the pandemic. Before you make travel arrangements, make sure that you are permitted to enter your country of destination by checking the latest government guidelines. If possible, it is wise to avoid travel, and if possible, to conduct meetings with colleagues and clients digitally for the time being."
A permanent trend?
Many conference organizers and airline executives wonder whether this new online trend will prevail after the pandemic is over. Companies have not only found that modern technology is suitable for their needs, but also that communicating online with faraway people is considerably cheaper than face-to-face.
Anything that saves money and helps boost the bottom line is an attractive prospect for CEOs and board members. Bottom line, in this context, means net profit, net earnings, net income, or net EPS (earnings per share).
In a BBC article, Natasha Frost wrote:
"Since the Covid-19 pandemic hit, business travel has ground to a halt. We've moved critical client meetings to Zoom, allowed our frequent-flier cards to gather dust and learned how to communicate with colleagues around the world without jumping on a plane."
"But is this the start of a new normal for business travel?"
Pros and cons of business travel
Cons
Traveling is great for broadening the mind and learning new things. However, if somebody has a family, there is definitely a price to pay. Missing family events may contribute to relationship difficulties.
It is also difficult if you don't have any children but have a partner at home that you like to be with as much as possible.
Many people who travel frequently on business say that they feel lonely while away. Healthcare professionals, for example, have commented that several of their patients who regularly go on business trips show signs of declining mental health, and in some cases, depression.
Jet lag or jet lag disorder is common for people who travel across time zones. Jet lag is primarily a temporary sleep disorder which can make you feel unwell and cause daytime fatigue. Sufferers often find it hard to stay alert and may also have gastrointestinal problems.
If you suffer from jet lag, you have a greater risk of being involved in a road accident. Try to get somebody else to drive if you feel drowsy when you get back from your trip.
Pros
If your business travel is successful, i.e., good for your employer, your opportunities for promotion may improve. If you visit branches of your company, you will make new face-to-face contacts. In fact, one of them may offer you an interesting position in the future. Without your trips, this opportunity may never arise.
On a personal note, if you like learning about different cultures and how people abroad go about their lives, business travel is great. Not only do you learn a lot, but you also do it on the company's expense.
If you accumulate lots of airmiles or reward points, you can use them for big discounts when you take your family on vacation. You may get special concessions from airlines, airports (VIP lounges), hotel chains, restaurants, currency exchange agencies, and car rental companies.
---