What is a conglomerate? Definition and examples
A conglomerate is a group of different businesses which form one corporate group. A large parent company with subsidiaries in several different sectors is a conglomerate.
In the vast majority of cases, conglomerates are huge multinational corporations.
Most conglomerates got that way as a result of mergers and acquisitions. They supply diverse goods and/or services.
BusinessDictionary.com has the following definition of the term:
"Large corporation run as a single business, but made up of several firms (acquired through mergers or takeovers) supplying diverse goods and/or services."
The corporation might not completely own the companies, but it will have an important or majority interest in them. Each company it controls conducts business separately. If one company has a majority interest or controling interest over another, it means that it owns more than 50% of its shares.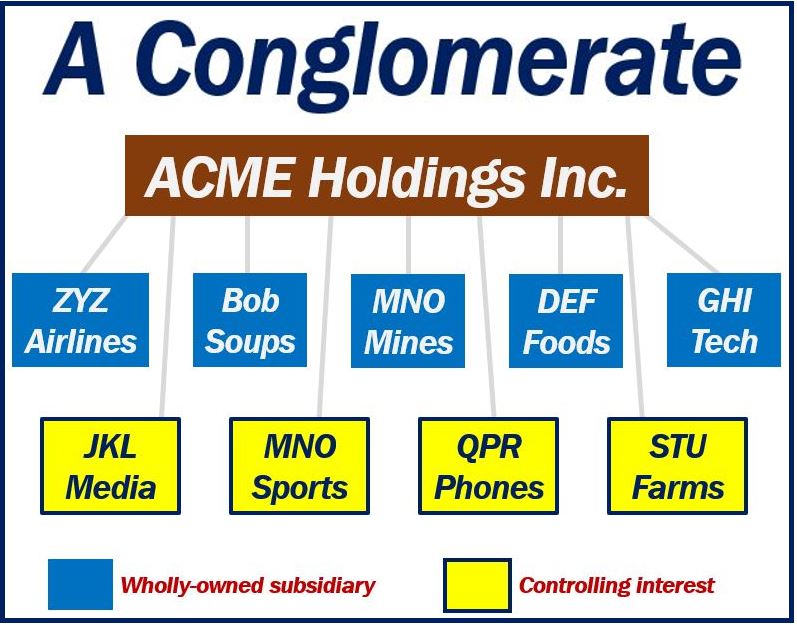 Conglomerate subsidiaries run independently
Each subsidiary operates as if it were its own boss. However, the subsidiaries' senior management report to the senior management or Board of Directors of the holding company.
A holding company is a company that buys and owns shares in other companies. By 'holding' those shares it can control them. The holding company is the parent company.
Diversifying risk
A conglomerate's main purpose of having controlling interests in different industries or sectors is to diversify risk. Therefore, when there are financial setbacks, the group suffers less than a company that specializes exclusively in one sector.
It is possible to optimize the use of management and company resources if there are many different business entities.
Too much diversity is risky
Conglomerates run the risk of becoming too diversified, i.e., spreading themselves too thin. Running several different businesses that have very little in common is a huge undertaking.
The parent company's senior managers need to have a good understanding of all the sectors in which their subsidiaries operate.
If the Directors are busy running all the companies simultaneously, saving a failing one might take a very long time.
SmallBusiness.Chron.com says the following about becoming too diverse:
"If one company is failing, it can take a great deal of time and effort to save that company. This is a difficult job for a corporation's top executives, considering that they are busy overseeing other companies at the same time."
An example of a conglomerate
Berkshire Hathaway, based in Omaha, Nebraska, USA, which Warren Buffet heads, is an example of an extremely successful conglomerate.
Berkshire Hathaway wholly owns: Fruit of the Loom, Long & Foster, FlightSafety International, Pampered Chef, NetJets, Dairy Queen, BNSF, Lubrizol, Duracell, and GEICO.
It owns 26.7% of the Kraft Heinz Company, 38.6% of Pilot Flying J, 17.6% of American Express, 9.9% of Wells Fargo, and 9.9% of the Coca-Cola Company.
Berkshire Hathaway is also a shareholder of Delta Airlines, United Airlines, Southwest Airlines, Apple Inc., and American Airlines.
The conglomerate has averaged a yearly growth in book value of 19% to its stockholders since 1965. The S&P 500 shareholder dividends, for example, grew by 9.7% annually over the same period.
Warren Buffett
Warren Buffett, Chairman and CEO of Berkshire Hathaway, is one of the world's most successful investors. In May 2019, he had a net worth of $89.9 billion. Your net worth is everything you own minus everything you owe.
Regarding investing, Mr. Buffett once said:
"Only buy something that you'd be perfectly happy to hold if the market shut down for 10 years."
---
---