Content marketing – definition and meaning
Content marketing is an innovative approach that concentrates on creating and distributing content to existing and prospective buyers. The content is valuable, relevant, and consistent for them. Sellers aim to provide answers and solutions to specific consumers' questions and queries. They also include the brand in the content. The approach subsequently boosts brand awareness and ultimately drives up sales.
According to The Marketing Helpline:
"Content marketing is simply creating and sharing content – either text-based, or video content – that can help to attract a certain audience, and to keep them interested and engaged, with the aim of encouraging customer action that leads to profit."
Content marketing forms part of an inbound marketing strategy.
Consumers drive content marketing
We may also characterize content marketing as a step from earned to owned media. By establishing own channels, brands progressively act like media companies and accomplish corresponding functions. Examples include entertainment, social interaction, and information.
Brands can ultimately become their own communication medium. Therefore, they replace paid-media channels altogether.
Companies share content that is closely relevant to what they are trying to sell. However, the content focuses on the needs of the viewer.
The seller delivers this information consistently and may present it as video footage, articles, and opinions in newsletters. The seller may also use forums, podcasts, how-to-guides, case studies, Q&A articles, photographs, and blogs.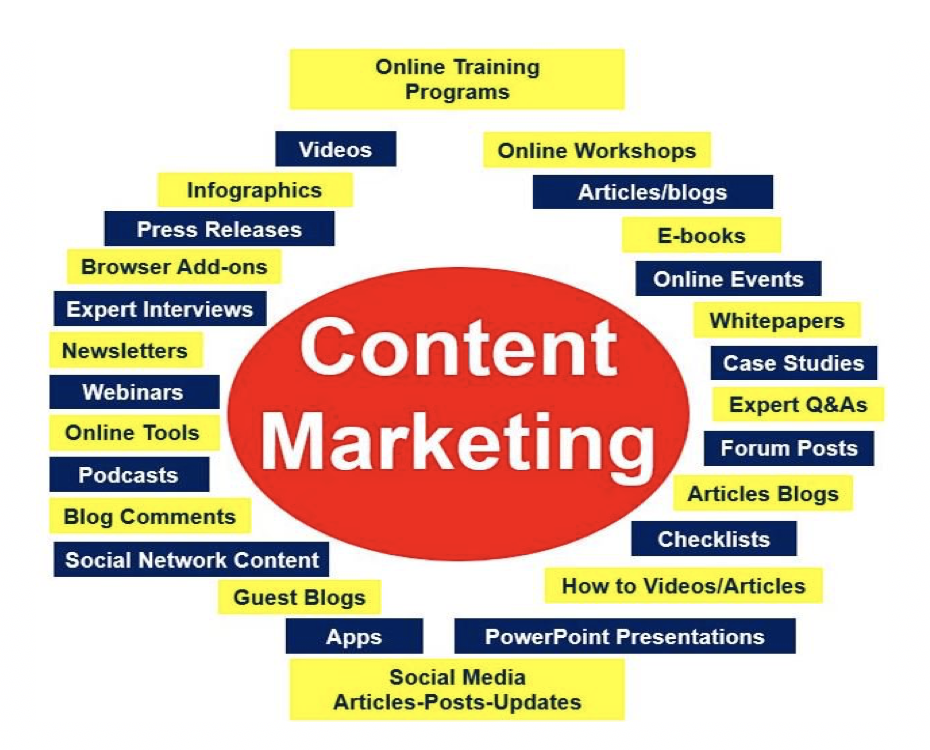 Content marketing has become widespread over the past decade. In fact, many traditional businesses have turned into media publishing concerns.
In a Mashable article, James O'Brien wrote:
"The idea central to content marketing is that a brand must give something valuable to get something valuable in return. Instead of the commercial, be the show. Instead of the banner ad, be the feature story."
Austrian energy drinks company Red Bull GmbH has taken content marketing to an extreme. Apart from selling its famous energy drinks, it has also published YouTube videos and hosted 'experiences.' Red Bull has also sponsored extreme sports events all over the world, including Formula 1 racing.
Red Bull GmbH owns Red Bull Media House, which produces full-length feature movies and downstream channels. It has a monthly magazine – The Red Bulletin – which focuses on men's lifestyle, culture, and sports.
A different marketplace today
Our marketplace today is considerably different from the one that existed a couple of decades ago.
Sales personnel used to be the all-knowing experts. Brands and businesses would spend money trying to find potential customers who might need their products and services.
However, today the consumer is the expert. The buyer is the one who is proactively reaching out to businesses and brands for help. The tables have turned. In other words, now it is the other way round.
Consumers currently guide themselves through up to 90% of the traditional sales funnel before contacting a salesperson or brand. Most shoppers have already extensively researched the product online before walking into a physical store.
According to uk.marketo.com, the average consumer spends seventy-nine days carrying out online research before purchasing.
In this buyer-driven environment, sellers can improve their sales by providing consumers with content. The content engages, intrigues, or interests the audience. Meanwhile, the company is subtly promoting its brand. This is content marketing.
Content marketing – advantages
Content marketing has three main advantages for the company and brand. First is enhanced brand awareness; second, greater brand preference; and third, a long reach at low cost.
Enhanced Brand Awareness
Consumers and prospective buyers search the Internet for answers and solutions to their inquiries. The brand appears in the texts they read or videos/photos they view.
Greater Brand Preference
Through content marketing, a company's brand establishes itself as a thought leader in the sector. Subsequently, relationships with buyers strengthen.
Long Reach at Low Cost
Content marketing is a long-term strategy. As the material widens and the content library expands, it reaches more and more potential buyers and qualified leads.
Content marketing is the way to go in today's online marketplace, where buyers and relationships are key.
The term 'content marketing' dates back to 1996. John F. Oppedahl used the term when he led a round table for reporters and journalists at ASNE. ASNE stands for the American Society of News Editors. Mr. Oppedahl has been President, Publisher and CEO of Phoenix Newspapers Inc. since 1996.
Jerrell Jimerson held the title of Director of Online and Content Marketing at Netscape in 1998.
Video – What is content marketing?
This video explains what content marketing is. Consumers today have shut off the traditional world of marketing. Today we skip television advertising when accessing the movies and shows we like online. We also ignore magazine advertising and have become more adept at online surfing.
Savvy marketers understand that traditional marketing is becoming rapidly less and less effective. In other words, they know that there has to be a better way.
---