What is F-commerce? Definition and meaning
F-commerce, which stands for Facebook Commerce, is a term used in the world of online business which focuses on designing and developing content and storefront sites within the social networking website Facebook. Put simply, it means selling goods and services within Facebook.com
The term Social Commerce means more or less the same, but includes all types of e-commerce that occur in social media, i.e. Facebook and other online social networking websites. The word 'commerce' on its own refers to the purchasing and selling of things anywhere, face-to-face, by telephone, by correspondence, online, using cash, credit card or barter.
With more than three-quarters of all online information coming from individual human beings today, much of it within social networking sites, finding ways to do business inside those environments has become big business.
F-commerce is a growing marketplace
Facebook, based in Menlo Park, California, is the world's largest online social media and social networking service, with 1.71 billion monthly active users. F-commerce aims to use elements of Facebook to boost sales. It is not uncommon to hear people today use the term when referring to all social media websites.
It did not take Facebook founder, Chairman and CEO Mark Zuckerberg long to realize that his website's billions of active monthly users could be monetized by inviting people and companies to use his environment to sell things.
People who analyze F-commerce usually distinguish between Facebook page transactions and those that occur through Facebook Open Graph, a tool for fusing 3rd-party websites with the social media site.
Some commercial enterprises set up Facebook stores that generate sales from active users, while others aim for more sophisticated promotional adverts to direct online users toward other sales venues.
The number of firms pursuing F-commerce is growing rapidly. It is a section of online business that is expected to reach several billions of dollars annually very soon.
Companies like Ticketmaster and Starbucks have extremely successful F-commerce operations.
F-commerce did not begin well
In its initial experiments, Facebook let companies display their products on their pages where customers could check out and pay without leaving the website.
Businesses first began selling things directly through Facebook in 2009. Two years later, it convinced GameStop, Nordstrom, Gap, and J.C. Penney to open stores within the site through their business pages.
They all closed their stores within twelve months. The industry analysts who had coined the term 'F-commerce' at that time jokingly suggested that perhaps the 'F' might stand for 'Failure'.
Since then, F-commerce has developed rapidly and has been an extremely effective vehicle for selling goods and services.
Tips on effective F-commerce
The following tips appear at mozaik.com/blog on how to build an effective F-shop:
– Audience: start off by building up a large fan audience. These individuals will effectively be your 'passing trade' (people walking or driving past the front of a shop).
– Contest: an effective way of building up a large fan base is to create a contest.
– Platforms: if you are not a programming expert, look for platforms that offer everything you will probably need. There are many free ones – go for those.
– User Friendly: nothing kills business online more than complicated navigation and unfriendly forms where making a purchase is cumbersome. Your platforms must be straightforward and easy to use.
– Photos: your products should be presented with excellent photos and detailed descriptions.
– Buttons: make sure your platform has social media buttons such as re-tweets, shares, pin it, etc.
– Security: make sure that the online transactions are safe, and tell your potential buyers that this is the case.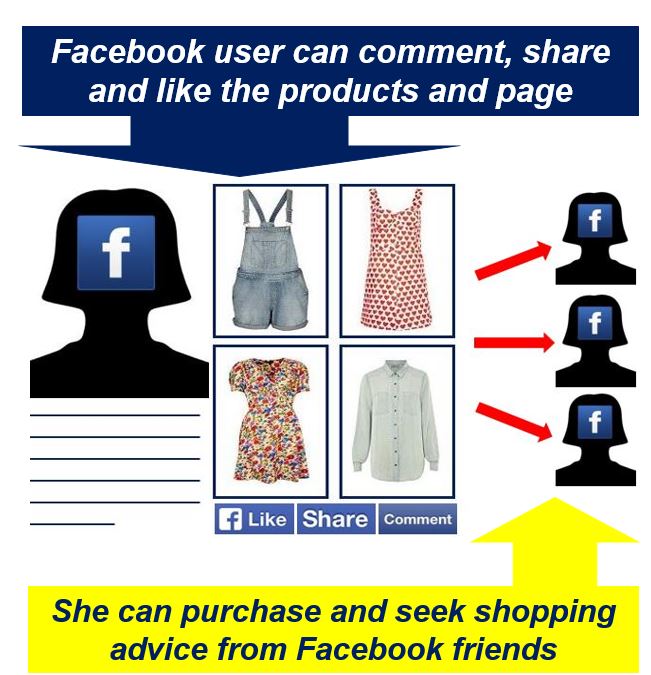 For the Facebook users, F-commerce offers a completely new and unique shopping experience. Something that can be shared with friends.
F-Commerce a self-perpetuating vehicle
Opening a shop in a Facebook page is like having a store in a local neighborhood where potential customers are more likely to pass your door every day, and can repeatedly be reminded of new offers and special products.
On your Facebook page, you can easily manage all your active sales and marketing. If you want, you can also link it to your main web store, where all your stock and order information is held.
The Facebook page and main web store's data are seamlessly linked so that orders never have to be entered again and everything is automatically kept up-to-date.
As more people like an F-Commerce page, the company can get to know more about its customers – their demographics and interests. This helps the seller target the market audience more accurately.
Potential customers who browse sellers' products on their Facebook store can comment, share and like the products and page. They can also share their purchases and seek out shopping advice from Facebook friends.
Each action acts as a social recommendation because they are displayed in the potential buyer's news feeds. This creates more traffic and sales for sellers because other people may click on the link.
As the number of customers who like your Facebook store page increases, you can get to know more about them, such as their demographics and interests, which allows you to more effectively target your market audience.
F-commerce allows you to take your shop to your customers. This creates a purchasing experience that does not exist anywhere else. You can reward your customers with discounts, group buys and fan promotions.
Video – F-Commerce Explained
This We Explain video tells you what F-commerce is and why it benefits any business that wants to increase online sales.
---